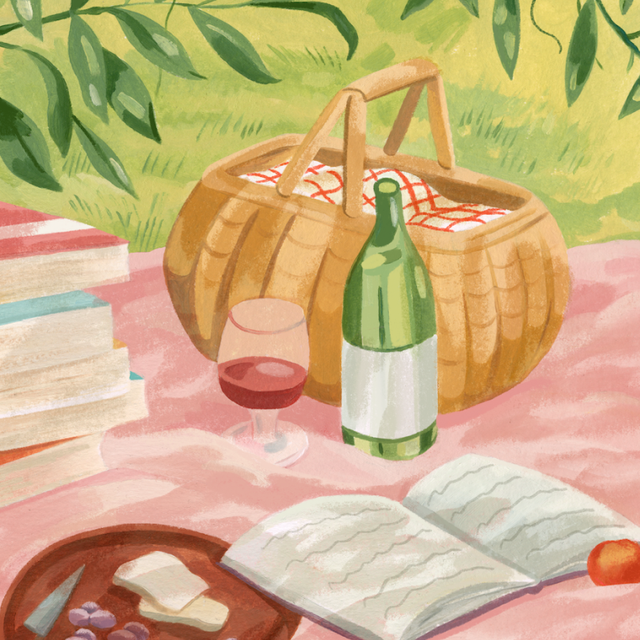 Grace Helmer
Oprah likes to say, "There is no best life without books." We couldn't agree more, which is why we've scoured the spring and summer literary landscapes in search of the season's most tempting new offerings—22 in all.
Book sales rose more than 9 percent in 2021, with fiction powering much of that growth. This year continues that momentum, with new novels by prizewinning, bestselling authors such as Emily St. John Mandel, Jennifer Egan, Monica Ali, Tom Perotta, Emma Straub, Ottessa Moshfegh, and Douglas Stuart, to name a few, as well as exciting work by emerging talents Leila Mottley, Tomi Obaro, Hernan Diaz, Michelle Hart, and more. And just in time for Asian/Pacific American Heritage Month in May comes a panoply of fiction from Asian and Asian American writers such as Vanessa Hua and Japan's Mieko Kawakami.
Perhaps one of the most important and thought-provoking publications of the year is Linda Villarosa's groundbreaking Under the Skin: The Hidden Toll of Racism on American Lives and on the Health of our Nation. It's a stunning exposé of why Black people in our society "live sicker and die quicker"—an eye-opening game changer.
In the coming months, we'll be regularly updating this roundup to include additional thrilling new offerings from a variety of genres—from riveting mysteries to must-read non-fiction to more from our most beloved literary novelists and short story writers. But in the meantime, head out to your favorite local bookstore with a large tote bag, turn off the TV, and settle into that most absorbing, edifying, transporting world…of reading.

Advertisement – Continue Reading Below
1
The Candy House, by Jennifer Egan
In this dazzling and provocative novel, Egan, winner of the 2011 Pulitzer Prize, asks the essential zeitgeist question: "What's app with that?" In 2010, Bix Bouton, a Black tech visionary, embarks on a mission to sate his omnivorous curiosity and enrich his family by devising a download that accesses each user's memories. But not all's well in cyberspace. Egan's technical brio enriches her humane and timely novel, hinting at the risks and rewards in a brave new coded world.
2
Nightcrawling, by Leila Mottley
This electrifying debut was written by Mottley when she was just 17
and marks the introduction of a remarkable new talent. Its heroine, Kiara, is attempting to navigate the world of East Oakland, where she and brother Marcus live without parents in a squalid apartment they can no longer afford. What unfolds is a riveting tale of survival and resilience that is all the more extraordinary for its author's youth.
3
Search, by Michelle Huneven
In this delectable novel, a bestselling Southern California food writer joins a committee from her Unitarian Universalist
congregation as they seek to hire a spiritual leader. Under pressure from her publisher, she agrees to chronicle the search as a memoir, with recipes sprinkled throughout. Huneven treats us to a savory plot that blends spiritual yearnings with earthly pleasures. Forks out!
4
Young Mungo, by Douglas Stuart
Stuart astonished the literary world with his debut, Shuggie Bain, which won the prestigious Booker Prize. His mesmerizing new novel recasts Romeo and Juliet with two teenage boys as the leads. Set in 1992 Glasgow, Young Mungo recalls the religious turmoil between Catholics and Protestants in Scotland's largest city, pummeled by the iron fist of Margaret Thatcher's fiscal policies, perpetuating a vicious code of behavior among working-class men. A marvel of language.
5
Forbidden City, by Vanessa Hua
Hua's atmospheric novel evokes the brutal 1960s regime of Chairman Mao as teenage Mei rises from poverty to sit at the ruler's right hand, both protégé and courtesan. The arc of this morally ambiguous heroine, who embodies our unease with powerful women, traces China's troubled journey into modernity.
6
Four Treasures of the Sky, by Jenny Tinghui Zhang
The prides and prejudices of the Old West blaze to life in Zhang's propulsive, fable-like novel about a starving 13-year-old girl spirited out of China and into California during the 1880s. Daiyu must navigate a maze of challenges, from a calligraphy school in Zhifu to a brothel in San Francisco ("pots of rouge for the cheeks and lips, rice powder for the face, black paint for the eyebrows and eyes") to a mining town in Idaho. Zhang skillfully embellishes her novel with Chinese characters, suggesting that language is our most potent weapon against oppression.
7
Sea of Tranquility, by Emily St. John Mandel
The lauded author of Station Eleven is back with a novel that serves up a mélange of historical fiction, sci-fi, and autofiction to illuminate our current moment. If Station Eleven (now an HBO Max series) anticipated the pandemic, her latest inhabits and expands on it through time travel and an author from a moon colony visiting planet Earth while on a book tour.
8
We Do What We Do in the Dark, by Michelle Hart
This sensual, sparkling debut novel explores the connection between young Mallory and a married college professor, their affair seemingly transactional, erotic; but Hart delves into the motivations of both women to dissect what exactly our desires conceal.
9
Love Marriage, by Monica Ali
In her fiercely imagined new novel set in London, the author of Brick Lane peels away the illusions we conjure when our core relationships are threatened. Yasmin, daughter of a conservative, striving Muslim clan, is engaged to Joe, who hails from an affluent, progressive, narcissistic tribe. As the families attempt a peaceful merger, crisis looms: Joe's mother once posed nude for a photo as a kind of feminist statement. Culture clashes, political satire, Oedipal conflicts—they're all here in this romp of a book.
10
All the Lovers in the Night, by Mieko Kawakami
From the celebrated author of Breasts and Eggs comes Kawakami's most accomplished novel yet, plumbing the ennui of Fuyuko, an anxiety-prone proofreader who is something of a social misfit. Once she resolves to transform herself, Fuyuko sets in motion a chain of events that propel things in unexpected ways.
11
The Evening Hero, by Marie Myung-Ok Lee
An immigrant from Korea, Dr. Yungman Kwak works as an ob-gyn at Horse Breath's General Hospital in rural Minnesota. Lee, the author of the acclaimed young adult novel Finding My Voice, among others, returns with a fictional adult saga deftly moving between Korea and the Midwest, the past and the present, to capture the duplicitous nature of the American Dream.
12
Shine Bright, by Danyel Smith
A pioneering culture critic blends singular reportage with personal testimony to document the stories of icons such as Whitney Houston and Aretha Franklin alongside lesser-known influences on pop music, like the poet Phillis Wheatley, who sang her poems, and singer Deniece Williams ("Let's Hear It for the Boy").
13
Post-Traumatic, by Chantal V. Johnson
Vivian is the protagonist of this sardonic, searching novel. She's a survivor of many kinds of violence and abuse, as well as a publicly appointed attorney and advocate who labors long hours at a psychiatric hospital. Her singular musings—on dieting, dating, and self-medication—entertain and enlighten.
14
You Have a Friend in 10A, by Maggie Shipstead
Great Circle novelist Shipstead's debut collection spans the globe, from a dude ranch to the deathbed of a Parisian patriarch, each story tenderly, incisively probing our quirky human foibles.
A virtuoso performance by an emerging talent whose first novel was a finalist for the Pulitzer and PEN/Faulkner, Trust is four books in one: a novel within a novel, a partial manuscript, a memoir, and a diary. Diaz's spellbinding tale parses the truth of just what happened to a patrician Manhattan couple during the Roaring Twenties and the Great Depression, and the role money played in all of it.
16
This Time Tomorrow, by Emma Straub
Time travel is a popular trope in fiction, and Straub deploys it brilliantly in her effervescent latest. On the cusp of her 40th birthday, Alice frets about her ailing father until one morning she wakes and the years have magically rewound to 1996. Teenage Alice rekindles her relationship with her youthful dad, and faces her own shortcomings. A shrewd chronicler of social mores and inner lives, Straub delivers a surefire bestseller.
17
Woman of Light, by Kali Fajardo-Anstine
In 1930s Denver, Luz "Little Light" Lopez is a tea leaf reader and laundress, a link in a chain of Latinx and Indigenous peoples. When her brother, Diego—a factory worker and snake charmer—flees a white mob, Luz is left to provide for her family, becoming the new protector of their stories and myths. A gorgeous follow-up to Fajardo-Anstine's Sabrina & Corina.
18
Lapvona, by Otessa Moshfegh
As fans of Lauren Groff and Bruce Holsinger can attest, medieval history is fertile soil for rich, resonant storytelling. Moshfegh, the author of My Year of Rest and Relaxation, returns with the captivating tale of Marek, a motherless shepherd boy whose ties to a blind midwife ripple through their community and threaten to topple a church hierarchy. Moshfegh expertly creates a world with its own superstitions and laws, both timeless and topical, "made of limestone, the air heavy with the blood smell of iron."
19
Dele Weds Destiny, by Tomi Obaro
Decades-long Nigerian friends Funmi, Zainab, and Enitan reunite 30 years after college for the wedding of Funmi's daughter Destiny. That coming together is the richly entertaining foundation for Obaro's debut novel of loyalty, betrayal, and ultimately the unwavering love that courses through our most intimate bonds.
20
Tracy Flick Can't Win, by Tom Perrotta
Everyone's favorite scheming politico is back for an encore performance in a black comedy that peers backward in time through the lens of our #MeToo moment. Now an assistant principal at a New Jersey high school, Tracy Flick jumps at the chance to advance her career when her boss retires, but before she can lock it down, a cabal of men swoop in to thwart her ambitions. Rare is the sequel that delivers the punch of a classic, but Perrotta pulls it off with élan.
21
Under the Skin, by Linda Villarosa
The groundbreaking journalist and editor investigates why African Americans "live sicker and die quicker" in this comprehensive look at the key factors driving persistent racial health disparities in everything from maternal mortality to mental health and medical education. Drawing on three decades of reporting, Villarosa balances scathing exposé with a cautious hope that we can reengineer the healthcare system to make it more equitable.
22
The Immortal King Rao, by Vauhini Vara
King Rao, raised on a coconut farm in South India, immigrates to the United States and becomes the CEO of a tech firm and leader of the world. Vara, an ex–Wall Street Journal reporter who covered the tech industry, conjures its high jinks and lowdowns with an insider's flair in this multilayered novel exploring global capitalism and climate change.
This content is created and maintained by a third party, and imported onto this page to help users provide their email addresses. You may be able to find more information about this and similar content at piano.io
Advertisement – Continue Reading Below