RALEIGH, N.C. – There have been plenty of disappointing losses in the 133-year history of North Carolina football. The 66-0 loss to Virginia in 1912, which is the largest margin of defeat on the books. The 41-7 drubbing by Oklahoma in 1980 when the Tar Heels were ranked No. 6 nationally and in contention for the national title. The 28-3 home loss to Furman in 1999. The 28-27 defeat at Duke in 2016 that killed hopes for a return visit to the ACC Championship Game.
For most Carolina fans, however, there is one loss that stands above the others: the 20-17 loss at Virginia in 1996. The sixth-ranked Tar Heels, who were on track for a Bowl Alliance berth, led 17-3 in the fourth quarter and had the ball inside the Cavaliers' 10-yard line when Chris Keldorf's pass was intercepted and returned 96 yards for a touchdown by Antawn Harris. That play flipped the momentum and Virginia rallied for the upset victory, searing the agony of defeat into the hearts of the Tar Heel faithful.
The game that had no equal for so many fans may have been usurped on Friday night at Carter-Finley Stadium, 25 years and 10 days later. It may take time for the significance of the 34-30 loss to N.C. State to register, although UNC's collapse was as dramatic as it was expeditious. If there was a plodding sense of doom in the final 10 minutes at Scott Stadium, there was a shocking suddenness surrounding the meltdown in Raleigh.
Grayson Atkins' 50-yard field goal that barely scraped over the crossbar gave UNC a 30-21 lead with 2:12 to play and the Tar Heel sideline erupted in emotion, celebrating a win that would ultimately never arrive. Perhaps Carolina lost its composure in that moment, unable to recover the discipline and focus that had fueled its 30-7 charge in the previous three quarters.
College football teams that led by nine points or more with less than 2:30 to play this season were 451-0 before Friday night, according to ESPN. After Ray Vohasek sacked Devin Leary for an eight-yard loss on N.C. State's first play of its penultimate drive with two minutes to play, UNC's win probability increased to 99.9%. Then everything went wrong.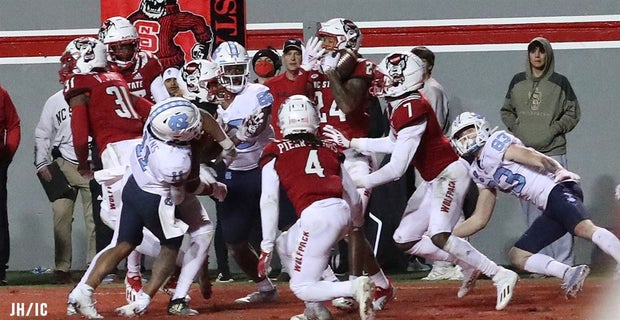 A busted coverage in the secondary allowed Leary to find a wide open Emeka Emezie sprinting down the left sideline for a 64-yard touchdown pass play. UNC's hands team misplayed the ensuing onside kick, thereby allowing the kicker to recover the ball at the 46-yard line.
"What lost us the game was the onside kick," senior linebacker Jeremiah Gemmel said following the loss. "And it's weird because I feel like we work on onside kicks and recovering them and then kicking them, both ways, I feel like more than most teams do. And they got us. They got a perfect kick on the onside and they were able to get the ball back."
Three penalties for 35 yards – in a span of four successive snaps – against the Tar Heels moved the Wolfpack into the scoring zone, where Leary found Emezie at the left pylon for a 24-yard touchdown and a 34-30 lead.
A lot can happen in 26 seconds. UNC had a two-possession lead and was already shoveling dirt on top of N.C. State's Atlantic Division title and ACC Championship Game hopes. Two touchdowns later, the Tar Heels were left scratching their heads, wondering how a regular season that began with a Top-10 national ranking could end with a .500 record and an epic collapse on its rival's home field.
"I just told the team we've got to finish," Brown said. "That's all it is. We've got to make the plays that they made down the stretch. We've got to be more mature and we can't have the penalties. We did everything you could possibly do wrong with two minutes left to not finish the game."
The Tar Heels are currently alone in fifth place in the ACC Coastal Division standings, looking up at two teams they defeated and two others they likely should have beaten. Friday night was an opportunity to enter the postseason on a positive note. Instead, it was more of the same as UNC was forced to watch its opponent make the necessary plays to win.
Brown spoke this week about the relevance of this rivalry, with fans of both schools interspersed throughout the Triangle and beyond. As in most rivalries, the bragging rights remain in place for an entire year, give or take a few days. This game, however, will serve as a defining moment in the UNC-N.C. State rivalry for years to come, one plucked from the highlight reel to explain to future generations why this matchup means so much to so many.