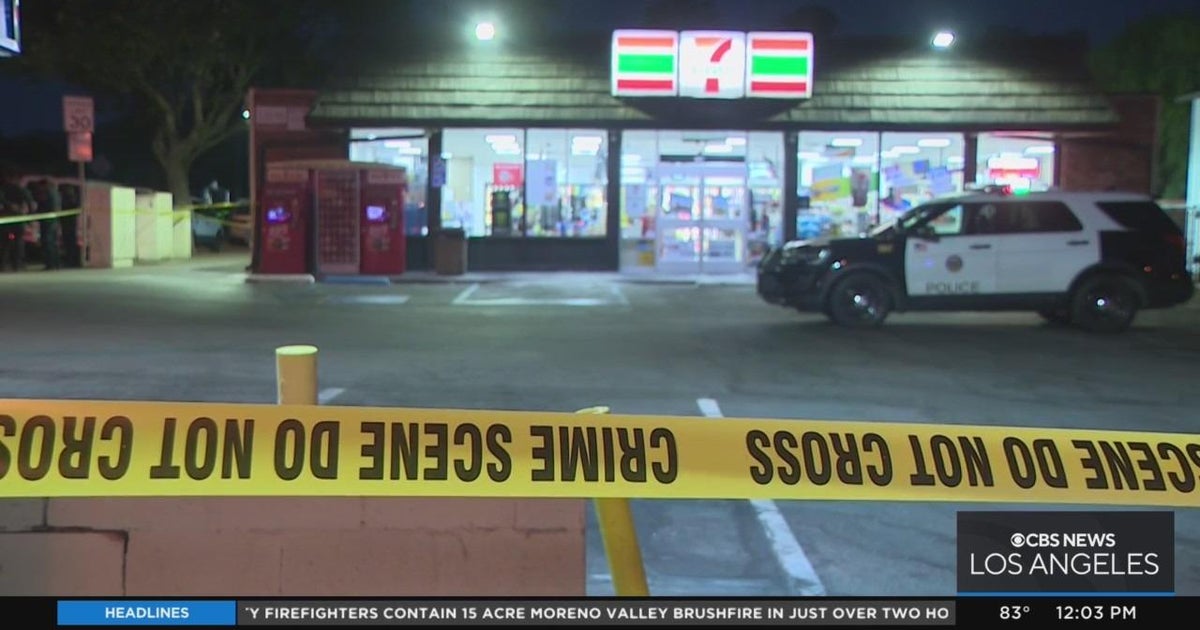 Armed robberies at 6 different 7-Eleven stores leave 2 dead, several wounded
A string of robberies at 7-Eleven stores across the Southland began early Monday morning after suspects robbed a store in Upland and Ontario, raising the total count of incidents that occurred on Monday to six, CBSLA has learned.
The robbery took place at a 7-Eleven convenience store located on the 2410 block of West Arrow Route in Upland. The incident took place just before 1 a.m. on Monday.
Fortunately there were no shots fired at this crime scene and there were no injuries reported, CBSLA has learned. 
The clerk at the Upland store was shaken up but did not suffer any injuries. 
A 7-Eleven in Ontario was also robbed early Monday morning at a store located at the 600 block of North Vine Avenue, according to the Ontario Police Department. The suspect held up the store with a handgun, but no shots were fired and no one was injured, police said.
The suspect is described as a Black male, who weighs about 160 pounds is 5-feet-10-inches tall. He was wearing a mask and dark clothes. 
The suspect was carrying a handgun and got away with $400 in cash.
Four separate shootings prompted large scale investigations across the Southland, after reported incidents in Riverside, Santa Ana, Brea and La Habra left at least two people dead and several wounded. 
Authorities rushed to the scene of a robbery turned shooting at a 7-Eleven located in Riverside early Monday morning. 
After receiving a call from a store employee at the Riverside 7-Eleven, located on La Sierra Avenue, Riverside Police Department officers were dispatched to the scene at around 1:50 a.m.
Officers found one victim, a customer, suffering from a gunshot wound to the head. The clerk who called the shooting in was unharmed in the shooting. 
According to RPD, the customer was taken to a nearby hospital in grave condition. 
An investigation continued throughout Monday morning as officers, including a Robbery-Homicide team, surveyed the scene and searched for information on the suspect who ran from the scene before authorities arrived. 
Investigators said the male suspect stole several random items from the store, but no money. 
It's unclear at this moment if the suspect who robbed the 7-Eleven in Upland was the same one who hit the store in Riverside.
Riverside police were working closely with law enforcement agencies in all of the shootings that occurred Monday, noting that there were several considerable similarities in each. 
The store was expected to remain closed through most of the morning as crime scene detectives reviewed surveillance footage and photographed the crime scene. 
Similarly in Orange County, Santa Ana Police Department officers rushed to the scene of a reported shooting at the 7-Eleven located on N. Spurgeon Street and 17th Street at around 3:25 a.m.
"A lone male victim was discovered lying in the parking lot with a fatal gunshot wound to his upper torso," Santa Ana officials said.
Santa Ana police said 24-year-old Matthew Rule of Santa Ana was fatally shot.
Yet another incident was brought to the attention of authorities in Brea, where crime scene tape blocked off the entire parking lot outside of the 7-Eleven on West Lambert Road. 
"Our preliminary investigation suggests that the clerk was killed during a robbery," Brea Police said. 
With Sky2 again over the scene, at least one bullet hole could be seen in the rear of a vehicle parked in front of the store. 
In Los Angeles County, multiple people required medical transport after a shooting that occurred at the 7-11 on East Whittier Boulevard in La Habra. 
The shooting was reported just before 5 a.m., when officers arrived, they found an employee and at least one customer suffering from gunshot wounds. Both are reported to be in stable condition.
Sky2 over the scene of the shooting showed several items of clothing covered in blood strewn about the sidewalk in front of the convenience store. 
Police in La Habra, Brea, and Santa Ana say they believe the same suspect is behind the shootings in their respective cities. It's not clear yet if the Riverside shooting is also connected.
"We are aware of other incidents that have occurred in the Southland at 7-Elevens," Rodriguez said. "We obviously at this point can't confirm whether they are connected, but we assure you our detectives are looking into that."
It's worth noting that Monday is National 7/11 Day, the chain's 95th birthday and the one day a year where customers can claim a free Slurpee from many 7-Eleven locations throughout the United States. 
In response to the shootings, 7-Eleven issued a statement that read: 
Our hearts are with the victims and their loved ones. We are gathering information on this terrible tragedy and working with local law enforcement. Right now, our focus is on Franchisee, associate and customer safety. With that in mind, we have encouraged stores in the Los Angeles area to close tonight.