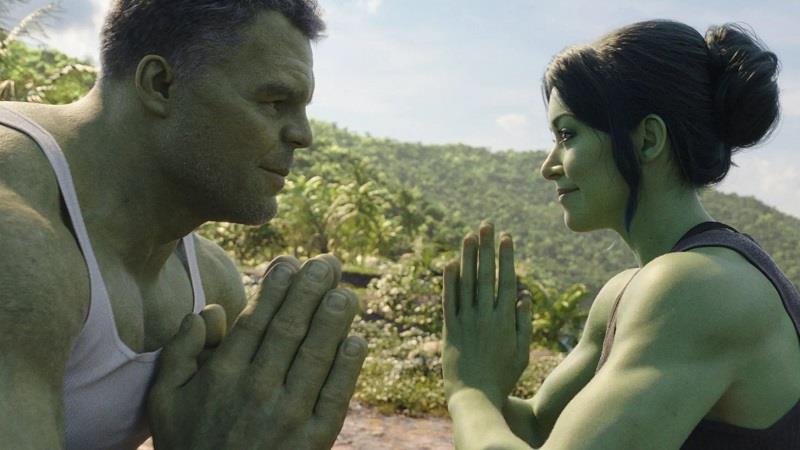 ATTORNEY AT LAW Promo Art And Stills Offer A New Look At The Hero's Costume, The Hulk, And Titania
Some new She-Hulk: Attorney at Law stills have been revealed showcasing Jennifer Walters, The Hulk, and Titania, while promo art offers a closer look at the hero's superhero costume. Check them out here…
She-Hulk: Attorney at Law is rapidly approaching, and Marvel Studios has now released some new stills from the Disney+ series. As you can see below, the spotlight is put on Jennifer Walters and her famous cousin, and we're sure you'll agree that the visual effects now look perfect. 
That first teaser came under fire for what appeared to be bad CG, but those VFX artists have clearly been working overtime to make sure this hero looks sensational on screen. Titania also receives the spotlight, and we're intrigued to see her in action later this month. 
Finally, there's new promo art that offers another shot of She-Hulk's superhero costume. This has mostly been kept under wraps by Marvel Studios, and based on past experience, we're betting Jennifer won't "suit up" until much nearer the finale. Still, she should fit in with the rest of The Avengers when they assemble to battle Kang the Conqueror later in The Multiverse Saga. 
Talking to Screen Rant recently, Tim Roth opened up on returning as The Abomination. "It was extraordinary. They gave me a buzz and said, 'Do you fancy it?' And I was like, yeah, yeah, why not? Again, I ran it by the boys and they're like, 'Just do it.' And so jumped in and into it, but I found it initially – which I think it's a positive as an actor – I found it difficult."
"Just for the first couple of days. I was like, 'Okay, what do I do?' and 'How does this work?' Because I watched Marvel movies. I love watching them. When I'm traveling and stuff like that. Big Logan fan, big Deadpool fan, all of that," the She-Hulk: Attorney at Law star continued. "Fantastic stuff. But how do you do it? What's the language of it?"
If Abomination is up to no good in this series, then Jennifer will need that costume! 
She-Hulk: Attorney at Law follows the hero as she navigates the complicated life of a single, 30-something attorney who also happens to be a green 6-foot-7-inch superpowered hulk.
The nine-episode series welcomes a host of MCU vets, including Mark Ruffalo as Smart Hulk, Tim Roth as Emil Blonsky/the Abomination, and Benedict Wong as Wong. Along with Matthews, the supporting cast also includes Ginger Gonzaga, Josh Segarra, Jameela Jamil, Jon Bass, and Renée Elise Goldsberry. 
She-Hulk: Attorney at Law premieres on Disney+ on August 17. 
 
NEW #SheHulk Promo Art 🟢💚#SheHulkAttorneyAtLaw #Hulk #Marvel #MarvelStudios #MCU #DisneyPlus pic.twitter.com/0QXMdjWGXk

— MCU Facility (@MCU_Facility) August 1, 2022