BOYLE HEIGHTS, California – As a stream of cars and large rigs rolled along Olympic Blvd. in Boyle Heights on Tuesday, city officials broke ground on a pair of new pedestrian crossings designed to reduce pedestrian risk. At the intersections between Camulos St. and Dacotah St. they will upgrade each pedestrian area with a shortened crossing distance and flashing lights to warn motorists when a pedestrian crosses the road.
"No one should have to risk their lives to cross the street," said City Councilman Kevin de Leon at the groundbreaking, just steps away from an unprotected pedestrian crossing on Olympic Blvd. as vehicles drove past.
Pedestrians are among the most vulnerable road users. At the national level, pedestrian deaths rose by 13% last year, according to an estimate of 2021 road deaths from the National Highway Traffic Safety Administration published Tuesday. Nearly 43,000 people died on U.S. roads last year – an increase of 10.5% compared to 2020 and the largest annual increase since NHTSA launched its death analysis reporting system in 1975.
LA is part of the national trend. Traffic fatalities in the city increased 20% in 2021 compared to 2020. Last year, 294 people died on LA roads; 132 were pedestrians and 18 were cyclists. Over 1,500 people were seriously injured.
This year is set to get even worse. As of May 14, 111 people have died in traffic accidents so far in 2022 – eight more than had died on the same date in 2021.
"Today is an important step in reversing these tragic trends," De Leon said.
The two pedestrian crossings that are being upgraded with curb extensions and flashing beacons are at intersections that would otherwise require pedestrians to walk several blocks of the road on Olympic Blvd. to cross at a signaled light. When the improvements are completed later in the summer, pedestrians will press a button on a pole indicating that they intend to cross the street, activating a flashing yellow light that will let motorists know that a person is crossing.
Flashing beacons provide more visibility for pedestrians, especially at night, according to Los Angeles Department of Transportation Capital Projects Engineer Carlos Rios. LADOT plans to make similar improvements at a handful of other intersections along Olympic Blvd. in Boyle Heights, which is one of several streets identified by the agency as part of a high-damage network of streets with a higher incidence of road fatalities and serious injuries.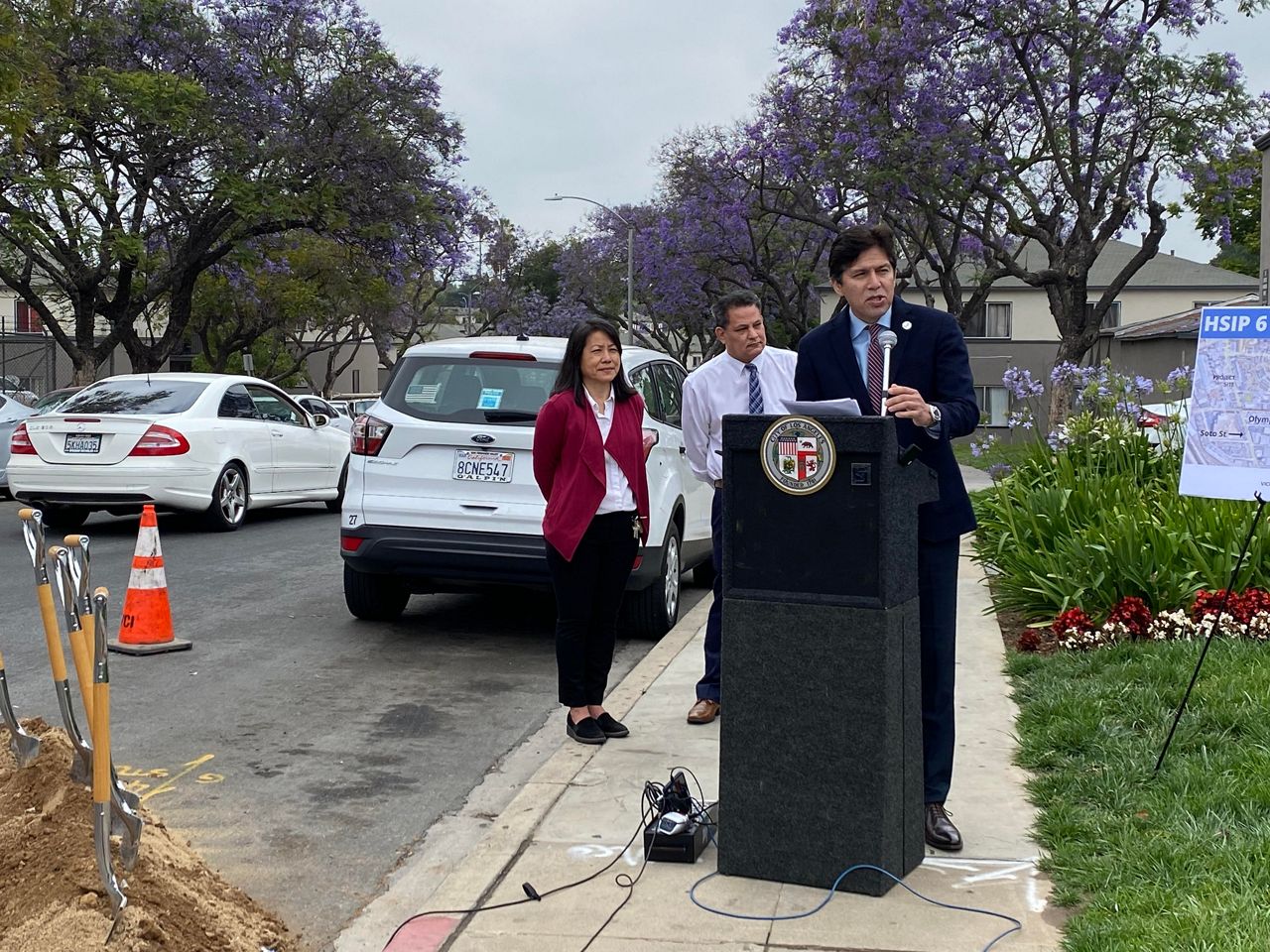 The intersections at Camulos and Dacotah streets are among a third of city crossings that lack warning lights to let drivers know when a pedestrian crosses the street. But that is likely to change.
Last October, De Leon introduced a proposal calling on the city to upgrade LA's 202 uncontrolled marked pedestrian crossings with flashing beacons. Such crossings have signage and street stripes, but no other form of traffic control. During last week's budget negotiations for the financial year 2022-2023, de Leon, who serves on the city council's budget and finance committee, secured a year's funding to begin the upgrades of the lighting transitions.
The two improvements to the pedestrian crossings at Boyle Heights total $ 623,000, of which $ 566,000 came from the federal government's highway safety program. The city of LA paid 10%, or about $ 57,000.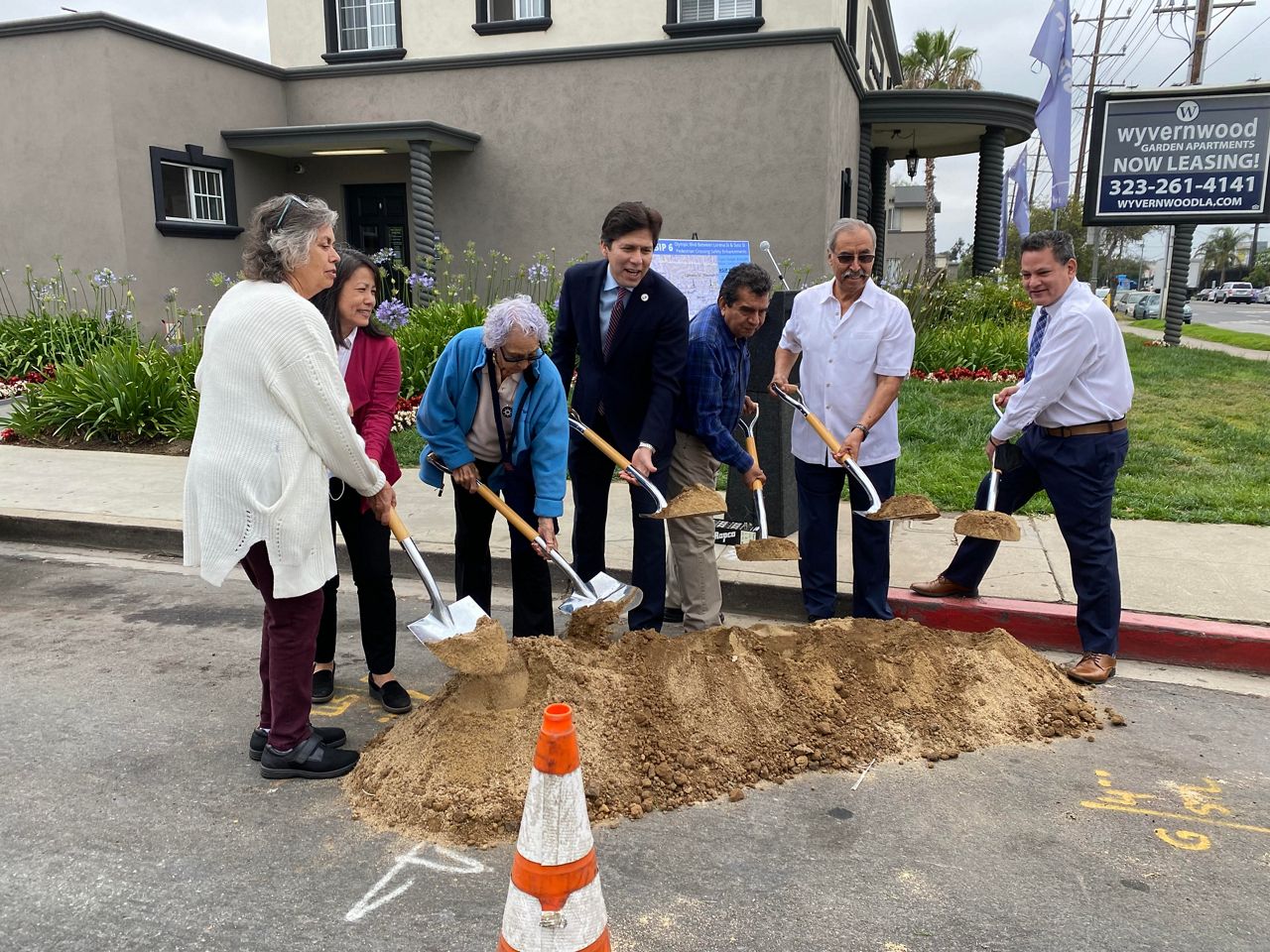 "There was a pattern of crashes at this site that warranted funding through the security program managed by the federal government," Rios said. "At LADOT, we are committed to creating safe and walkable spaces in our neighborhoods, especially in areas around schools, transit centers and recreational parks. These are places where communities need to go and cross the street."
Improvements to the pedestrian crossings at Dacotah are near an elementary school and an early education center.
The upgrades will be made when LADOT's Vision Zero program has come under fire for not slowing down traffic fatalities in the city. When Mayor Eric Garcetti first announced the program in 2015, the goal was to reduce the number of traffic fatalities to zero by 2025. Instead, the number of traffic fatalities has increased due to reckless driving behaviors such as speeding and drunk driving.
Last month, the LA City Council voted unanimously to revise the Vision Zero program. While the LA Controller's office has not yet decided whether to carry out the audit, LADOT stands firm in its belief that the millions of dollars it has spent on road improvements so far are paying off.
"Where we have made security improvements, we are seeing a huge improvement in security performance," said LADOT spokeswoman Colin Sweeney.
Sweeney pointed to a stretch of Foothill Blvd. who had experienced two fatalities on the roadway within just a few months in a row in 2015. Following a roadblock that removed a lane and put in a protected bike path, there have been zero fatalities and a 63% reduction in serious injury collisions.
Part of the reason Vision Zero does not seem to work is because it is such a big city, he said. LA has 8,500 miles of road – 6% of which account for 70% of pedestrian deaths and deaths. Upgrading the most cumbersome 6% translates into 510 miles of security improvements, each of which requires analysis, engineering, construction, money and of course time.
"For more than 10 years, residents and business owners in this community in Boyle Heights have been urging officials to come up with solutions along this corridor and mitigate the dangers," de Leon said. "I'm here this morning to give society what they have rightly demanded."