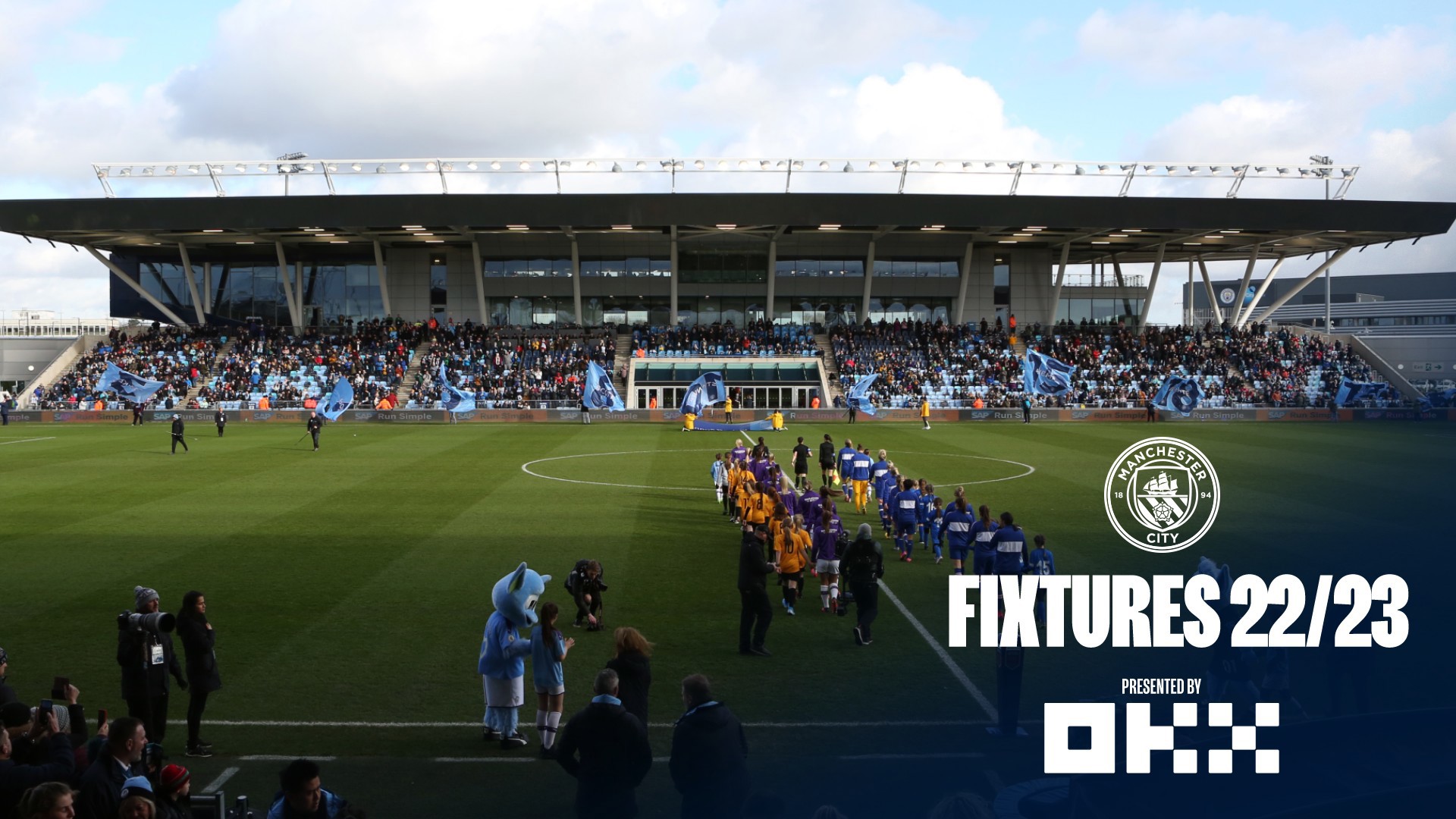 City to begin with Arsenal clash
City will start the 2022/23 Barclays Women's Super League season by welcoming Arsenal, last year's runners-up, to Manchester.
Gareth Taylor's side will also complete the league season at the Academy Stadium, facing Everton in the final weekend of May.
Match dates and kick-off times are still to be confirmed but City's opponents for each weekend have been released.
Get your Man City Women season ticket
After that opener against Arsenal, City will round-out September on the road at Aston Villa and current champions Chelsea.
Three matches follow in October, with home games against Leicester City and Liverpool either side of a trip to Tottenham Hotspur. The only assignment in November is a journey to Reading in the first weekend of the month.
Brighton are the visitors early in December before City host the first Manchester Derby of the season a week later, the last match before the Christmas break.
The new year begins against West Ham (14/15 January) before we welcome Aston Villa to the CFA a week later.
The run-in sees three matches in each of March, April and May – including fixtures at Arsenal, Liverpool and Manchester United as well as Chelsea's trip to City in late March.
In order to prepare for the season, City will play four behind-closed-doors pre-season friendlies at the Academy Stadium.
We will face Durham (28 July, 2pm), Sheffield United (4 August, 7pm), Brighton (11 August, 2pm) and Liverpool (27 August, 2pm).
City will also travel to Madrid for Round One of the UEFA Women's Champions League in August. We will play Kazakh side Tomiris-Turan in the semi-final on 18 August, with Sturm Graz or Real Madrid waiting in the final of the mini-tournament for the winner of that fixture.
In finishing third last season, City won 15 matches and earned 47 points from 22 games.
View all of our 2022/23 fixtures here
Since the end of that campaign, there have been several changes to City's squad including the arrival of five new signings; Laia Aleixandri, Deyna Castellanos, Mary Fowler, Sandy MacIver and Leila Ouahabi.
All of our fixtures are subject to time and date changes through the course of the season, with broadcast selections and Champions League progress potentially impacting the domestic schedule.
FULL BARCLAYS WOMEN'S SUPER LEAGUE FIXTURES
City v Arsenal, 10/11 September
Aston Villa v City, 17/18 September
Chelsea v City, 24/25 September
City v Leicester, 15/16 October
Tottenham Hotspur v City, 22/23 October
City v Liverpool, 29/30 October
Reading v City, 5/6 November
Everton v City, 19/20 November
City v Brighton, 3/4 December
City v Manchester United, 10/11 December
West Ham v City, 14/15 January
City v Aston Villa, 21/22 January
Leicester v City, 4/5 February
City v Tottenham Hotspur, 4/5 March
Brighton v City, 11/12 March
City v Chelsea, 25/26 March
Arsenal v City, 1/2 April
City v West Ham, 22/23 April
City v Reading, 29/30 April
Liverpool v City, 6/7 May
Manchester United v City, 20/21 May
City v Everton, 27/28 May
How to watch City live next season
Manchester City Women's Season Tickets are now on sale.
Being a Season Ticket Member includes:
A seat for all 11 home WSL Games
Access to the Season Ticket Member Cup Schemes to get preferred rates on all cup games
10% retail discount in-store and online
20% Stadium Tour discount
Access to exclusive content and competitions
You can also register your interest for games of your choice.