Family of Briton missing in Ukraine 'very worried' about him | Ukraine
The family of one of the two British men missing in Ukraine have said they are "very worried" about his disappearance.
Chris Parry, 28, was last seen on Friday with fellow Briton Andrew Bagshaw, 48, heading to the town of Soledar in the eastern Donetsk region of Ukraine.
The men had been working as volunteers helping people evacuate from the frontline of the war, following Russia's invasion of the country in February 2022.
The Parry family, including his parents and partner, said in a statement: "We are very worried and concerned about the health and whereabouts of Chris right now.
"He is an extraordinary person who is compassionate and caring and would not be dissuaded from his work in Ukraine liberating elderly and disabled people, which we are very proud of.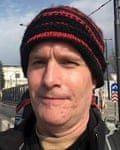 "We, his family and partner, all love him very much and would be grateful if our privacy could be respected at this difficult time."
Heavy fighting has been reported in the region and contact with the pair was lost on Friday.
Bagshaw, who lives in New Zealand, was in Ukraine to assist in delivering humanitarian aid, according to New Zealand media reports.
A statement on behalf of his parents said: "Andrew is a very intelligent, independently minded person, who went there as a volunteer to assist the people of Ukraine, believing it to be the morally right thing to do.
"Andrew's parents love him dearly and are immensely proud of all the work he has been doing delivering food and medicines and assisting elderly people move from near the battlefront of the war."
A Foreign, Commonwealth and Development Office spokesperson said: "We are supporting the families of two British men who have gone missing in Ukraine."
Their disappearance comes after five Britons were released by Russian-backed forces in Ukraine in September.