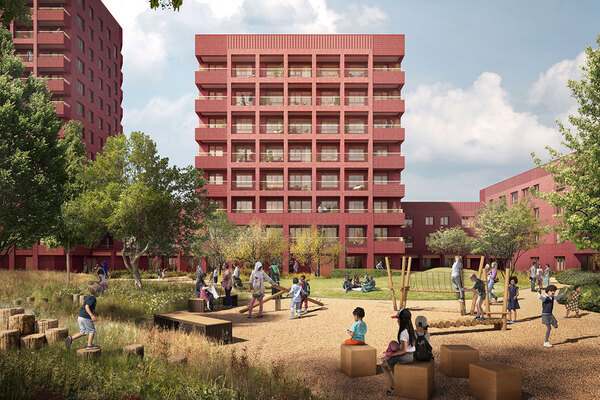 Inside Housing – News – London borough submits application for nearly 1,000 new homes
The London Borough of Hounslow has submitted an application to deliver 967 homes as part of a plan to regenerate the Convent Way Estate.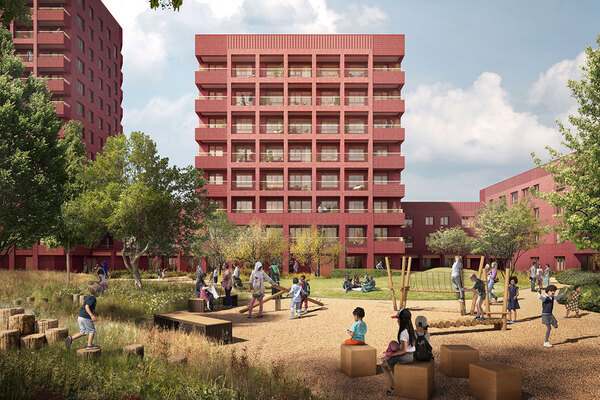 An artist's impression of the new Convent Way Estate (picture: Secchi Smith)
A total of 85% of residents voted in favour of the proposals to regenerate the existing estate in Southall following a ballot, which will include a minimum of 50% of the properties offered for affordable rent.
The estate will be regenerated in phases to ensure that existing residents will not have to move home.
Options for retention and refurbishment of the existing buildings were initially explored, but due to significant chronic repair issues, unsuitable disabled access, security issues, and concerns of health and safety, residents voted for the demolition and renewal of the estate.
The development will also support the council's climate emergency declaration and the homes themselves will help address fuel poverty within the estate by achieving a 69% reduction in carbon.
The plans were submitted by Bell Phillips Architects in collaboration with Gillespies.
Ashmi Thapar, senior architect at Bell Phillips Architects, said: "Working closely with residents of Convent Way Estate from the very outset of the project has been the most rewarding aspect of developing this masterplan. 
"Delivering Passivhaus homes set within new parks, streets and well-connected green infrastructure is a significant and challenging aspiration on such a constrained site."
Ms Thapar said that it was particularly special to be delivering the development for a community of residents who are keen to stay at Convent Way and transform the area, and share a vision to create a sustainable neighbourhood for future generations to enjoy.