Jacob Rees-Mogg and Nadine Dorries back Liz Truss for Tory leadership – live | Politics
Truss wins backing from Rees-Mogg and Dorries, positioning her as Johnsonite, 'Stop Sunak' candidate
Jacob Rees-Mogg, the Brexit opportunities minister, and Nadine Dorries, the culture secretary, have just told Sky News that they are backing Liz Truss for the Tory leadership.
Rees-Mogg says Truss had been his strongest supporter in cabinet in terms of seeking Brexit opportunities. He went on:
When we discussed taxation, Liz was always opposed to Rishi's higher taxes. That again is proper Conservatism. And I think she's got the character to lead the party and the nation.
Asked if Truss was the 'Stop Rishi' candidate, Rees-Mogg replied:
Liz Truss is the best candidate. She's a proper Eurosceptic. She will deliver for the voters. She'll deliver for the voters. She believes in low taxation.
Dorries added: "And she's a woman."
This joint endorsement will firm up Truss's position as the lead candidate for the Tory right. It also confirms that she is effectively the Johnsonite, 'Stop Sunak' candidate. Boris Johnson thinks his former chancellor was disloyal, and blocked his spending plans. Johnson said yesterday he would not be endorsing anyone himself, but his closest allies are now piling in behind Truss.
Truss has become the main Brexit candidate despite voting remain in 2016. That's a tribute to the speed with which she repositioned herself, and also the credit she won with Brexiters as international trade secretary for signing trade deals (which critics said were mostly roll-over version of the trade deals the UK had as an EU member anyway).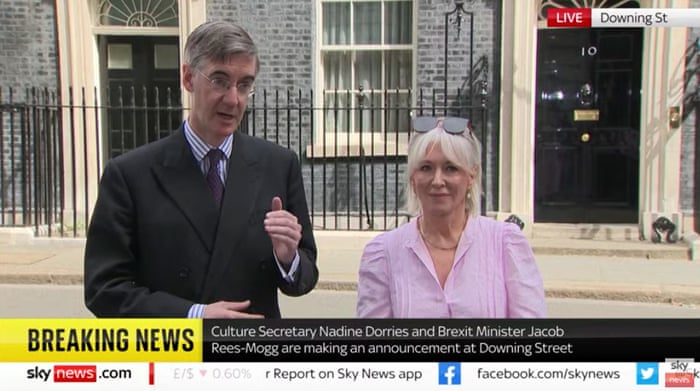 Key events:
Patrick Flynn, an analyst at the betting firm Smarkets, reckons Rishi Sunak and Penny Mordaunt will be the Tory leadership candidates who make it through to the ballot for members. He sets out his thinking here.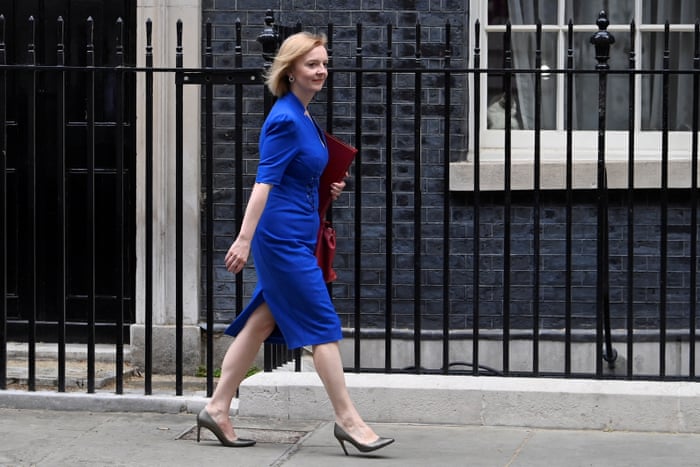 This is from Steven Swinford from the Times, who is at the QEII centre in Westminster for the launch of the Rishi Sunak campaign.
Zahawi hits back at Sunak, saying 'cutting taxes isn't fairytale'
In an interview with BBC Breakfast this morning Nadhim Zahawi, the new chancellor and Tory leadership candidate, hit out at his predecessor for implying rivals offering immediate tax cuts were peddling "comforting fairy tales". Zahawi told BBC Breakfast:
Of course we need to reduce the burden of tax.

I believe cutting taxes isn't a fairytale but rather a critical step to tackle the cost-of-living crisis.
Zahawi claimed his promises were fully costed, and he said he would be "saying more about the way we'll pay for that in the coming days".
He also said he was confident that he would receive the 20 nominations he needs by the end of the day to be on the ballot paper.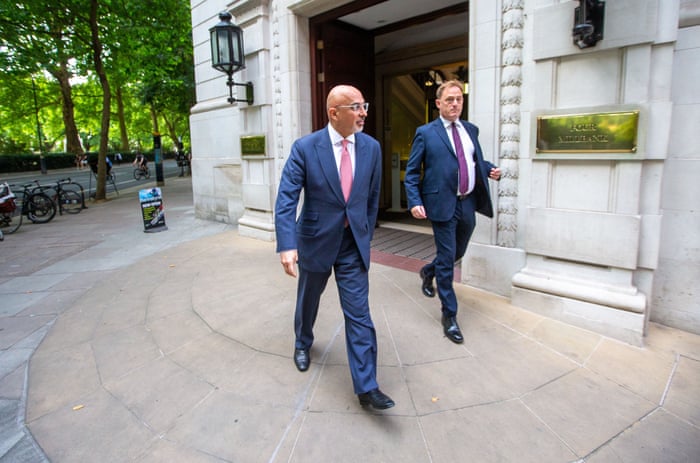 Ian King, the Sky News journalist who presents a morning business news show on the channel, wins this morning's "speaking truth unto power" award. Sky News presenters are generally impartial, but King let rip when asked by his colleague, Kay Burley, about the Tory leadership candidates. He told viewers:
I've never heard such a lot of rubbish coming out of some of these people's mouths. I remember a time when the Conservatives stood for sound money. Here they all are brandishing these unfunded tax cuts around. The whole thing is an absolute farce, isn't it?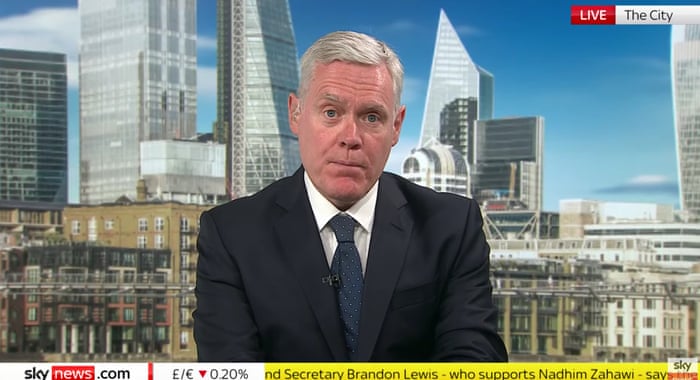 Last night the Conservative 1922 Committee confirmed that candidates would need at least 20 nominations to be included on the ballot paper in the first round of voting tomorrow. According to a tally by Politico (which includes Tory MPs who have hinted they will stand, as well as declared candidates), Rishi Sunak, Penny Mordaunt and Tom Tugendhat have already clear the 20-nominations hurdle.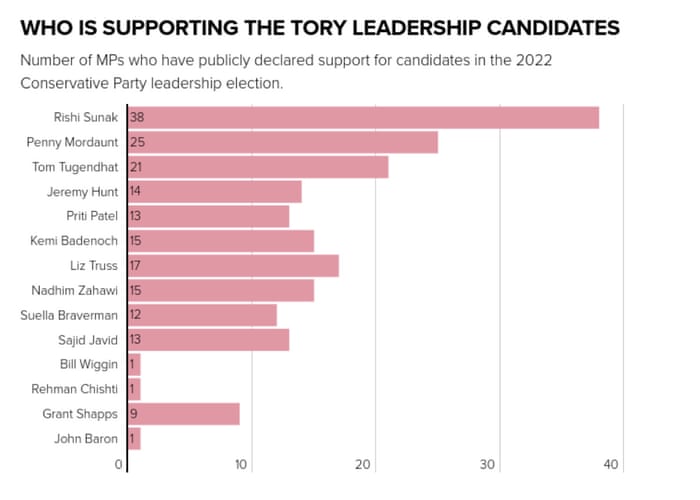 Grant Shapps, the transport secretary and Tory leadership candidate, has said that as PM he would increase defence spending to 3% of GDP. In an article for the Times he said:
We have shown that this country, far from detaching itself from Europe in the wake of Brexit, is more than ever an indispensable ingredient of European stability. A pillar of the Nato alliance, the most successful exercise in collective security in history.

But freedom is not free. There is a cost. That is why, as prime minister, I will raise defence spending to 3% of GDP, in contrast to the Nato-recommended minimum of 2%.
Why Labour is tabling no-confidence motion in government
As my colleague Alexandra Topping reports, Labour plans to table a no-confidence motion in the government that would be debated tomorrow.
No-confidence debates are relatively rare. As this Commons library note explains, the last one was in 2019, but that was the first since 1994.
It is important to remember that they fall into two categories. Sometimes the opposition tables a no-confidence motion in the hope of getting government MPs to abstain, or vote against, so they can bring down the government.
But sometimes no-confidence motions are tabled with the intention of getting government MPs to vote for an unpopular government. This is what Tony Benn wrote in his diaries in November 1990, when Margaret Thatcher was being challenged for the government.
The Labour party is of course keen to keep Thatcher, and Kinnock has put down a motion of censure against her, for Thursday, to try to consolidate Tory support around her. It is a disgrace that in eight years this is the first motion of censure.
Labour says it is tabling the motion because it wants Boris Johnson out of office by the end of the week. But there is no chance of the motion being passed because, although Tory MPs may not want Johnson to remain as PM, but they do want a Tory government to stay in power, and the debate will be about confidence in the government. Instead, the debate will provide Labour with campaign ammunition, because it will enable the party to say (justifiably) that Tory MPs voted to keep Johnson in office (if only for a few more weeks).
Boris Johnson's allies launch bid to stop Sunak as survey casts doubt on former chancellor's leadership chances
Good morning. Rishi Sunak, the former chancellor, launches his campaign for the Tory leadership later. At one point he was seen as the clear favourite to succeed Boris Johnson, and the candidate best placed to help the Conservatives beat Labour, but his reputation collapsed early this year after his spring statement backfired and a row erupted over his wife's non-dom status and the fact that he had a US green card when he became chancellor.
Conventional wisdom declared that he had ruined his chances of ever becoming prime minister. This morning he is still the candidate with the most public endorsements from fellow MPs. But he is by no means a shoo-in, and there are two bits of news out this morning that should be worrying for his campaign.
Johnson's allies are mounting a bid to stop Sunak becoming leader. The clearest sign of this in the Times, which quotes James Cleverly, the Johnson loyalist appointed education secretary last week, accusing Sunak of being a Treasury stooge and of "plotting" against the PM. To defend his plotting claim, Cleverly said:
I think what some people were doing was about trying to create the preconditions of a leadership contest. There are people like Liz [Truss] who have been defending the government's decisions, working hard every day making sure the government does what it needs to do. People will draw their own conclusions about who has been fully committed.
Cleverly also said that, as chancellor, Sunak was "a spokesperson for Treasury officials". He went on:
We have pursued an economic policy which a lot of people would find harder to differentiate from what a Labour government would do. We need to make it clear that you can't keep putting up taxes to solve every challenge, you need to unlock economic growth.
In its story, the Times also reports that Jacob Rees-Mogg, the Brexit opportunities minister, and Nadine Dorries, the culture secretary, are both set to endorse Truss as the candidate of the Tory right most likely to stop Sunak. Rees-Mogg and Dorries have consistently been Johnson's most loyal cheerleaders.
A survey of Conservative party members for the ConservartiveHome website suggests only around 12% of members favour Sunak as their first choice candidate to succeed. Penny Mordaunt comes top in the survey, but she is only on about 20% and perhaps what is most significant about the survey is what is suggests about members wanting someone new, not associated with the Johnson cabinet. This is from Paul Goodman, the ConservativeHome editor, in his analysis of the results.
Perhaps the reason is that some of them were involved in pushing out Boris Johnson. Or maybe it is that others tried to keep him on. Or perhaps it's simply that yesterday's candidates are old hat, amidst a culture that prizes sensation and novelty.

But whatever the explanation may be, the two chart-toppers in ConservativeHome's first next Tory leader survey since Ben Wallace withdrew from the contest, aren't members of the current cabinet at all.
Until now the Conservative leadership campaign has consisted of Sunak saying he won't tell "comforting fairy tales" on the economy, while almost all the other candidates have been promising tax cuts almost immediately, with little or no indication of how they might be funded. At his launch today Sunak will say that he wants tax cuts too – but only when inflation is under control. Here is our preview story.
Here is the agenda for the day.
Morning: Boris Johnson chairs cabinet.
11am: Rishi Sunak holds his campaign launch.
11am: Tom Tugendhat holds his campaign launch.
11am: Kemi Badenoch takes part in a Q&A at the Institute for Government.
11am: Sir John Major, the former Conservative prime minister, gives evidence to the Commons public administration and constitutional affairs committee about propriety in governance in the light of Greensill.
10pm: Nominations close for leadership candidates. To stand in the first ballot tomorrow, MPs will need the backing of at least 20 colleagues.
I try to monitor the comments below the line (BTL) but it is impossible to read them all. If you have a direct question, do include "Andrew" in it somewhere and I'm more likely to find it. I do try to answer questions, and if they are of general interest, I will post the question and reply above the line (ATL), although I can't promise to do this for everyone.
If you want to attract my attention quickly, it is probably better to use Twitter. I'm on @AndrewSparrow.
Alternatively, you can email me at andrew.sparrow@theguardian.com