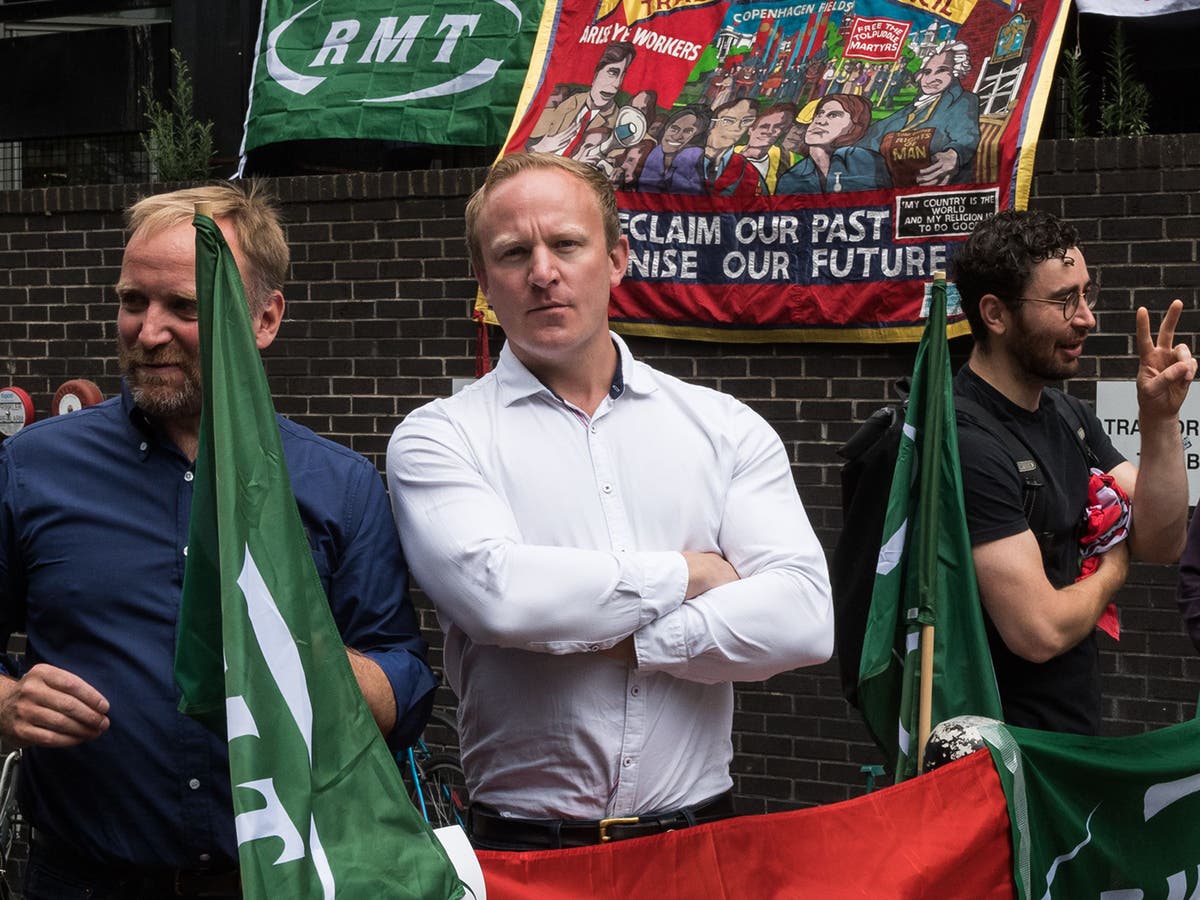 Labour frontbencher sacked after defying Starmer order to stay away from rail strike picket line
Keir Starmer provoked a furious backlash from unions on Wednesday night by sacking a frontbencher who joined striking rail workers on the picket line.
He moved swiftly to sack Sam Tarry after the shadow transport minister defied orders by conducting TV interviews alongside strikers in London.
It came as Aslef announced another walkout on Saturday 13 August affecting nine rail companies, on top of planned action this Saturday.
Meanwhile, unions voiced fury at government plans to tighten laws on industrial action, with RMT leader Mick Lynch suggesting he would back a general strike if Liz Truss became prime minister on a platform to "effectively outlaw collective action".
A package of measures set out by transport secretary Grant Shapps – a supporter of Rishi Sunak's bid to succeed Boris Johnson as PM – was denounced as "anti-democratic" by the TUC, while Unite said it would be met with "fierce and prolonged resistance" by workers.
Sir Keir warned his party's shadow ministers on Tuesday not to join picket lines on a one-day walkout by RMT members seeking a better pay offer.
"The Labour Party in opposition needs to be the Labour Party in power," said Starmer, who was derided by Tories for failing to penalise such action during a previous round of strikes. "And a government doesn't go on picket lines, a government tries to resolve disputes."
A Labour spokesperson said: "This isn't about appearing on a picket line. Members of the front bench sign up to collective responsibility. That includes media appearances being approved and speaking to agreed frontbench positions.
"As a government-in-waiting, any breach of collective responsibility is taken extremely seriously and for these reasons, Sam Tarry has been removed from the front bench."
But Mr Tarry, a former official of the TSSA transport union who helped run Jeremy Corbyn's leadership campaign, said he was "proud" to join the striking rail workers.
"It has been a privilege to serve on Labour's front bench for the past two years and to have had the opportunity to speak up for hard-pressed workers who deserve so much better than the treatment they've received from this corrupt and out-of-touch government," said the Ilford South MP.
"I remain committed to supporting the striking rail workers, and campaigning for a Labour victory at the next general election, which I will fight for relentlessly from the back benches."
And he warned the Labour leadership was on a "direct collision course" with unions over strikes, revealing in an interview with LBC he had received calls from seven union general secretaries – six of them affiliated with the party – who were "fuming" about his sacking.
TSSA general secretary Manuel Cortes said Mr Tarry "did the right thing and stood shoulder to shoulder with rail workers striking for fairness and safety at work".
"The Labour Party needs to wake up and smell the coffee," he said. "If they think can win the next general election while pushing away seven million trade union members, they are deluded.
"We expect attacks from the Tories, we don't expect attacks from our own party. As a Labour-affiliated union, our union is ashamed of the actions of the Labour Party leadership and the anti-worker anti-union message it is sending out.
"This is a bad day for our movement. And if Keir Starmer doesn't understand the basic concept of solidarity on which our movement has been built then he is not worthy of leading our party."
Writing in The Daily Telegraph, Mr Shapps said he wanted to complete the "unfinished business" of Margaret Thatcher by reining in union power.
After legislating to allow the use of agency workers as strike-breakers, he set out plans for additional measures including:
A ban on strikes by different unions in the same workplace within a set period
A limit of six pickets at critical sites and a ban on intimidatory language
Requirements for new ballots on every bout of industrial action, and a minimum 50 per cent threshold, compared to 40 per cent of those eligible to vote now
An increase in the minimum notice for strike action from two to four weeks
Minimum service levels during strike action on critical infrastructure such as railways
"The default strategy adopted by the RMT and others in industrial relations – their casual, habitual, brutal resort to the strike weapon – must end," said Mr Shapps. "Only then will this country progress to a high-productivity, high-wage 21st-century economy benefitting all workers."
TUC general secretary Frances O'Grady described Mr Shapps's package as "an attack on the fundamental right to strike … anti-democratic and anti-worker".
"While millions are struggling to get by, ministers are falling over themselves to try to find new ways to limit workers' ability to bargain for higher pay," she said.
And general secretary Sharon Graham said: "If Grant Shapps had his way we would all still be in the workhouse."
Describing the current cost of living crisis as "the latest episode in a long-term war on the living standards of workers", Ms Graham said: "I will not apologise for demanding and winning fair pay rises for my members and any action to effectively remove the ability to strike will be met with fierce and prolonged resistance."
Earlier this week, Ms Truss promised "tough action to prevent trade unions from paralysing the country" if she becomes PM, including legislation to impose minimum service levels on critical national infrastructure.
She also promised to raise ballot thresholds from 40 to 50 per cent to make it more difficult for union bosses to secure support for industrial action.
Mr Lynch predicted "an enormous response from the trade union movement" if Ms Truss's plans went ahead, saying that his union would back a general strike, but recognised it was a decision for the TUC.