30 min: Thiago is orchestrating everything. He swans around the middle of the park like he owns it, which right now he kind of does. He sprays a pass towards Salah on the right. Salah tears infield, but his shot is deflected and gathered by De Gea.
28 min: The Gea's snatched clearance nearly tees up Alexander-Arnold from long distance. The keeper rushes back towards his line just in time, giving Alexander-Arnold second thoughts. Thing is, a third goal would not flatter Liverpool.
27 min: A rare United attack. Elanga tears down the left, getting the better of Alexander-Arnold. But the cross is no good. Wan-Bissaka is unable to keep the ball in play.
26 min: Anfield is bouncing. What an atmosphere. United can hardly get a touch.
24 min: "I've been watching Manchester United for 42 years, and this is as bad as it gets," says Gary Neville on Sky. Robertson swings a ball in from the left. Mane can not keep it in at the far post. Goal kick, which counts as blessed relief for United right at this minute.
15.23
GOAL! Liverpool 2-0 Manchester United (Salah 22)
Thiago and Alexander-Arnold work the ball in from the right. Mane, his back to goal, 30 yards out, spins and plays a glorious pass down the right channel to release Salah into the box. Salah sidefoots calmly into the bottom left. United are being given the royal runaround here.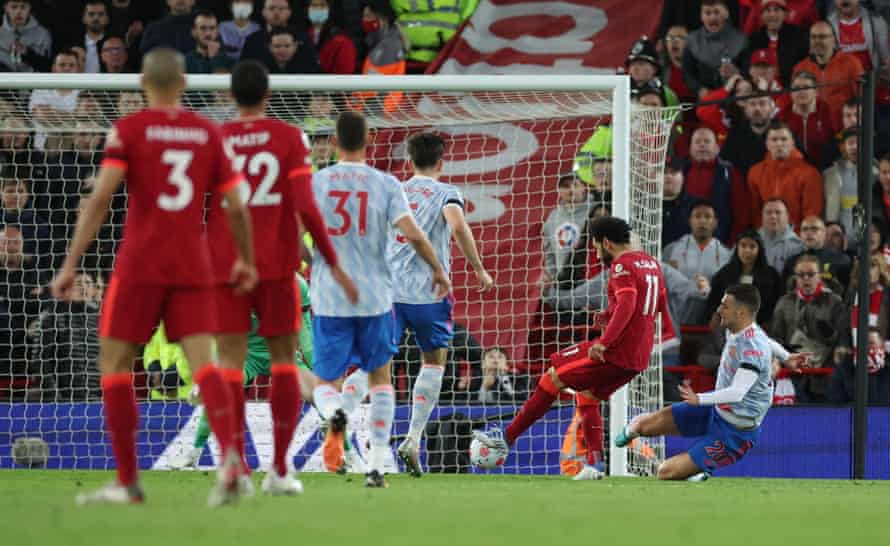 21 min: Liverpool pass it around patiently. Very patiently. Then …
19 min: Mane hassles Matic down the Liverpool left. Matic attempts to send the ball back to De Gea but only whacks it out for a corner. Robertson sends it deep. It's half cleared. Henderson sends an ambitious volley deep into the stand behind. Liverpool have enjoyed 75 percent of possession so far.
18 min: United are all over the shop at the back. Elanga slices a clearance out for a corner on the right. Alexander-Arnold takes. Another wasted corner, a callback to an old fanzine.
16 min: Thiago shuffles to make space for himself, 25 yards out. He slips a pass to Mane on his right. Mane shoots. A deflection sends the ball looping over De Gea but wide left of the unguarded goal. The resulting corner is hit long for Fabinho, who fails to connect in the Konate style. United clear their lines.
14 min: A first snatch of real possession for United. Some patient passing. Matic then clips a ball down the middle in the hope of releasing Lingard. Alisson comes to the edge of his box to claim.
12 min: A first corner of the evening, for Liverpool, comes to nought. The hosts have been utterly dominant so far.
10 min: Pogba has pulled something. He limps off, to be replaced by Lingard. On Sky, Gary Neville points out that we could have just seen Pogba play his last few minutes in a United shirt. That injury's going to have to clear up quickly if that's not to be the case.
8 min: The figure seven ticks over on the clock, and all four corners of Anfield break into applause, sending Cristiano Ronaldo, CR7, and family a message of sympathy. A chorus of You'll Never Walk Alone, too. A lovely, if awfully heartbreaking, moment of solidarity and love. Some things are bigger than rivalry.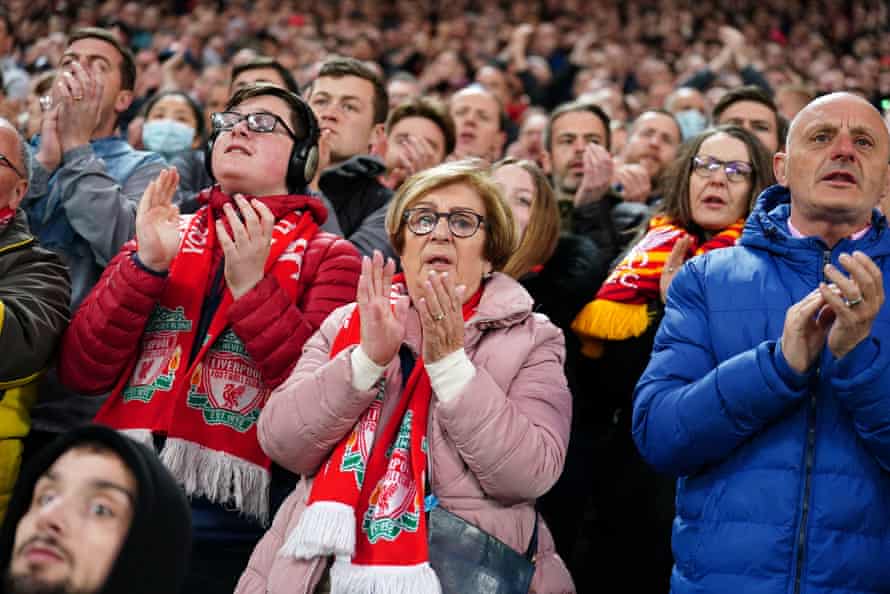 7 min: Dalot was caught out of position there, too. Alexander-Arnold whacks the ball away in celebration and nearly hits De Gea, who is not best pleased. The pair square up, but the referee is on point quickly enough to calm everyone down.
15.07
GOAL! Liverpool 1-0 Manchester United (Diaz 5)
Maguire goes wandering upfield. Mane rolls an instant pass down the right to fill the gap. Salah zips up the flank and whips an instant low cross into the center, where Diaz opens his body and sidefoots powerfully into the top right. Easy as that.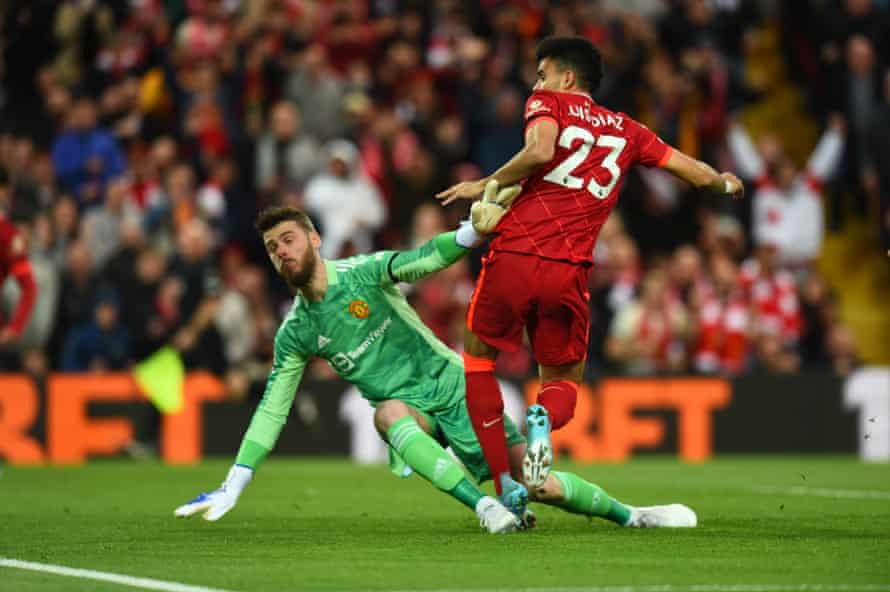 4 min: It's Fernandes versus Alisson take two! The same near miss. Great footwork, but Fernandes might be onto something here.
3 min: Fernandes tries to close Alisson down. He nearly manages it, too, only for Alisson to throw an outrageous dummy and send him off the wrong way, before calmly passing upfield. The crowd enjoyed that; whether his manager or team-mates did is another matter. A few hearts in mouths.
2 min: United are kicking towards the Kop in this first half. Early doors, but it looks like though they're playing with only Rashford up front, Fernandes and Elanga dropping back into midfield.
United get the ball rolling … but only after everyone takes a knee. The gesture is met with good grace. There's no room for racism.
The teams are out! Liverpool wear red, forcing Manchester United into their Sharp / Lee Sharpe throwback strip. Speaking of retro stylings, here's the very kind Justin Kavanagh: "A great Joy of Six, Scott, as always. However, with Phil Jones in, and Crisitano Ronaldo out, I'm not sure how much further nostalgia United fans can take. To put it in perspective, imagine a recently resigned Luis Suárez was out tonight for Liverpool, and Danny Wilson was getting a surprise recall. " We'll be off in a couple of minutes.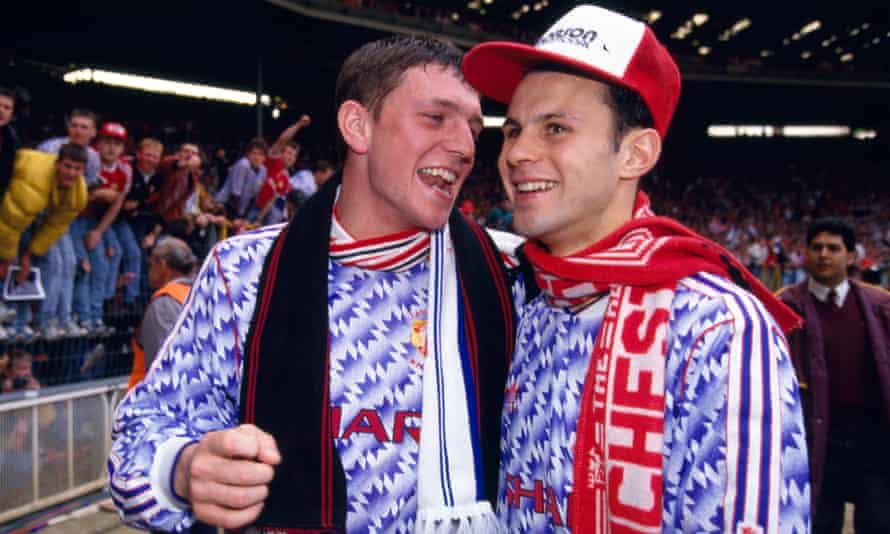 A reminder of where both teams stand. Liverpool can go top – for 24 hours at least, Manchester City playing host to Brighton tomorrow evening – with a draw. A win for United would haul them level on points with fourth-placed Tottenham Hotspur, three clear of Arsenal, who travel to Chelsea tomorrow. Plenty riding on this.
Jurgen Klopp talks to Sky. "We decided months ago that we would give it a go in a situation that was not obvious. So it means you just have to go in each game as though it is the last you will ever play. That's what we have to do tonight. All teams have their own reasons. United have changed the system, it will be hard work for us, and that's what we have to be ready for. They have great strength in counter attacking. We have to see who can make the best of it. There is no guarantee of anything, so that's why I ask for a great atmosphere. It's Man United, a derby, nobody feels tired before these kind of games. "
Ralf Rangnick speaks to Sky. "We need the best possible balance of being stable defensively, and have some threats in the transitional moments. [Three at the back] worked well in training yesterday so hopefully we can see it on the pitch today. We have another game coming up on Saturday and I decided to give Jadon Sancho a rest, though he may come on. Both teams need to win the game. We need a top performance in all areas, tactically, physically and mentally. "
Further nostalgia. There's still over half an hour until kick-off, you see.
A reminder of what happened when these teams met last October …
… and in the interests of nostalgic balance, here's how things unfolded the last time Manchester United won at Anfield.
Liverpool make two changes in the wake of Saturday's first-half demolition of Manchester City in the FA Cup semi-final. Jordan Henderson and Joel Matip take the places of Naby Keita and Ibrahima Konate, both of whom drop to the bench. Roberto Firmino, who came on at Wembley, misses out altogether.
Manchester United make four changes to the XI named for last weekend's 3-2 win over Norwich City. Phil Jones makes a surprise return to what looks like a back three (or back five, depending on how you slice it). Nemanja Matic, Aaron Wan-Bissaka and Marcus Rashford also step up. Alex Telles, Jesse Lingard and Jadon Sancho drop to the bench, while Saturday's hat-trick hero Cristiano Ronaldo is on compassionate leave. Sleep well, little man.
Liverpool: Alisson, Alexander-Arnold, Matip, van Dijk, Robertson, Henderson, Fabinho, Thiago, Salah, Mane, Diaz.
Subs: Konate, Milner, Keita, Gomez, Jones, Jota, Tsimikas, Origi, Kelleher.
Manchester United: of Gea, Jones, Maguire, Lindelof, Dalot, Pogba, Matic, Wan-Bissaka, Elanga, Rashford, Bruno Fernandes.
Subs: Bailly, Mata, Lingard, Sancho, Henderson, Alex Telles, McTominay, Mejbri, Garnacho.
Referee: Martin Atkinson (W Yorkshire).
It's Liverpool versus Manchester United, with league titles and European Cup qualification on the line. A biggie that requires no hype. Kick off is at 8pm BST. It's on!