New energy efficiency laws will mean that 80% of London's office space will have to be upgraded over the next seven years, Deloitte has said.
Legislation currently passing through parliament is expected to set minimum standards for energy performance in buildings that will require renovation work to be carried out on 15 million square meters of office space in the capital, the firm estimates in a new report.
From 2030, office buildings are expected to have an energy performance certification (EPC) of at least Grade B. The current minimum compliance level is Grade E.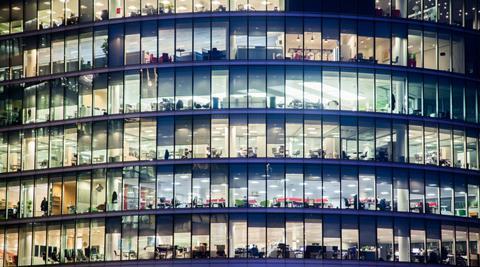 Deloitte property valuation and ESG leader Philip Parnell said: "Increased levels of corporate reporting, stakeholder pressure – including pressure from residents – and stricter environmental standards are undoubtedly driving investor and developer focus.
"We can expect to see continued growth in renovation activity to address value erosion caused by accelerating obsolescence and resident choice."
Estimates were included in Deloitte's semi-annual London office crane survey, which also showed that the vast majority of new construction in London over the past six months was renovations.
Only five new construction projects started during the period, a drop of a third since the last survey in November. In total, shovels went into the ground on 36 projects, 31 of which were renovations.
Parnell said appreciation of carbon emissions from existing structures is growing. "Brand new development will of course continue to happen, but the impetus and the growing preference for renovating, reusing and reusing are clear."
New office construction for both new construction and remodeling in the six months to March was 2.3 million square feet, a decrease of one-third.
Completion of office arrangements was also halved during the same period to 1.7 million sq ft, well below the long-term average of 2.5 million sq ft.
But completion this year is now expected to pick up speed and reach at least seven million square meters, which would be the highest volume since 2003.
Deloitte Real Estate Director Mike Cracknell said the figure was driven by a number of delays caused by supply chain disruptions and labor shortages, which had led to a delay in arrangements to implement.
But he added: "Despite this, the market is showing resilience and appetite among investors remains strong. This, along with residents' demand, contributes to confidence in the city."
About two-thirds of developers plan to increase their pipelines over the next six months, the study reported.
Deloitte also said residents' demand remains robust, with nearly a third of the space under construction required by a tenant.
While two-thirds of developers said resident demand was "slightly better" than six months earlier, and 14% said it was "much better", concerns about the impact of hybrid work on the market are growing as well.
Developers predicted that post-pandemic work would reduce demand for office space by 14% in the long run compared to 11% in the November survey.