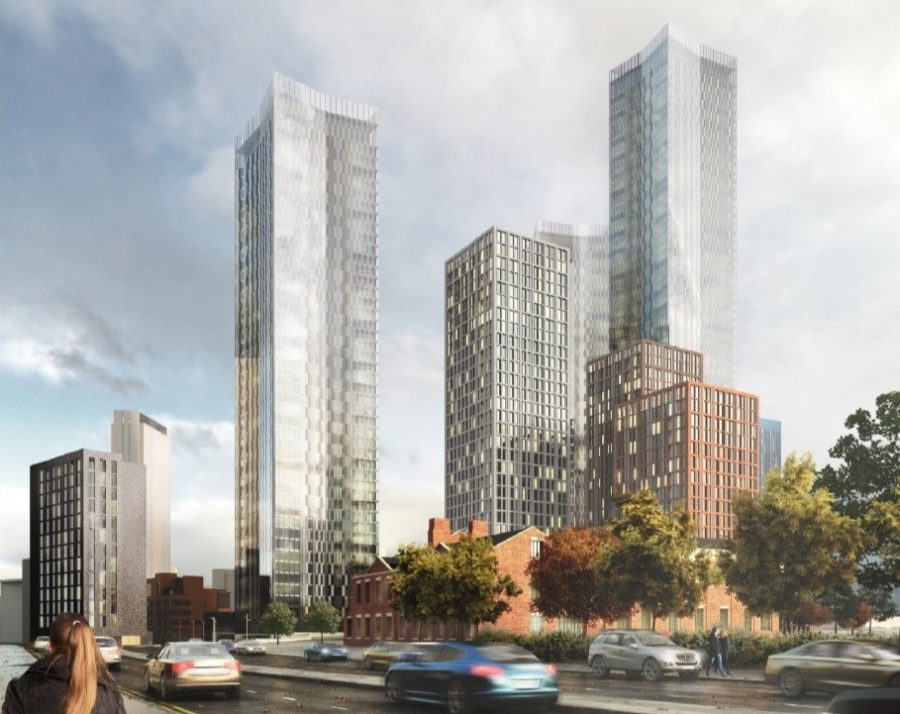 Property round-up: Avison Young; Together; Northern Trust; 4th Utility; Lowry Mill; Coffee Block; Ellen House
Avison Young has secured the long leasehold interest on behalf of NHS Property Services of around 750 sq m of accommodation in one of Manchester's newest urban residential communities.
Recognising the opportunity to serve the community at Renaker's Great Jackson Street development, NHS Property Services has agreed the acquisition of a 250-year lease of premises located to the ground and first floors of the 52-storey Elizabeth Tower. A medical centre will be established there to serve the local community.
Frank Convery, principal within the specialist primary health care team at Avison Young, appointed to advise NHS Property Services on the acquisition, said: "The Great Jackson Street development will be home to some of the city's most spacious, high quality homes. It's therefore fitting that the Elizabeth Tower is also going to be home to advanced primary health and care services at the heart of the community."
The new medical centre will form part of the wider community and supporting services provision which also include a new primary school, public realm and green space.
Planning permission was granted in July 2018 and as a condition of that permission, a Section 106 Agreement required the developer to offer up, with the option of lease or purchase, accommodation on a shell/core basis for the purpose of primary care NHS use.
The subject accommodation will soon be fitted out with a view to open the medical centre in 2023.
::
Flood Estates has agreed a £7.5m investment loan facility with specialist lender Together.
The debt facility will allow the family run portfolio to continue its acquisition of commercial properties, which currently comprise six investment properties throughout the UK.
Brendan Flood is the founder of a number of successful property, sport and investment companies in the UK and the USA. He is chairman and founder of UCFB (University Campus of Football Business) as well as director of Burnley FC.
He said: "This is the first time that we have worked with Together and I was impressed by their entrepreneurial approach and ability to move quickly."
Chris Baguley, commercial managing director at Together, said: "It was a pleasure working with Brendan whose wealth of experience in the commercial property world means that he has the knowledge to source unique opportunities. We understood his ambitions for the future and look forward to working with him to help realise them."
::
Chorley-based Northern Trust has completed work on its new 35,773 sq ft industrial development in St Helens.
The£4m phase two development at the Gerards Park scheme, off College Street, adds 20 more units. The new units are arranged in three separate terraced blocks with sizes ranging from 818 sq ft up to 2,900 sq ft. The units over 1,000 sq ft include integral office space, and there is dedicated parking to the front of each unit with good communal circulation space.
The phase two development has been part-funded by the Local Growth Fund, which is awarded to the Liverpool City Region Local Enterprise Partnership (LEP) and invested through the Liverpool City Region Combined Authority through its Strategic Investment Fund.
Mike Grindrod, director at Northern Trust, said "We have seen strong demand for the new space with 14 out of the 20 units already occupied in less than a month since completion. Considering the current economic climate this development shows our commitment to investing in the St Helens area whilst facilitating growth and creating jobs."
Steve Rotheram, Mayor of the Liverpool City Region, said: "Across the city region we're investing in transformational developments like Gerards Park that will help us to keep attracting new jobs, businesses and investment into the area. The £1m we've injected into the site means that St Helens will continue to grow and succeed, with local people seeing the benefits through new jobs and training opportunities."
The new development sits alongside Northern Trust's existing Gerards Park scheme which was developed in 2012 and will be actively managed by Northern Trust's in-house managing agents, Whittle Jones. John Marrow, regional property director at Whittle Jones, said: "The demand for the new space has been encouraging with this development providing much needed workshop accommodation for small and medium sized enterprises looking to set up or relocate to the area."
Northern Trust's current ownership in St Helens now extends to circa 100,000 sq ft across the three sites, in more than 80 units.
::
Full fibre broadband provider 4th Utility has moved to a new home in Greater Manchester as the firm gears up for another period of growth.
The independent Internet Service Provider (ISP) has leased new office space at Beech House on Cambridge Road in Hale, close to the town centre, announcing it as the firm's new headquarters.
The business says it is now ready for rapid growth following the move to the 700 sq ft contemporary office suite in Hale town centre.
CEO, Tony Hughes, said: "We're a company with huge ambition and our new base will allow for further expansion, both in terms of the number of customers we provide for – and our staff headcount.
"It's great to be located in Hale – so close to the high street and in the middle of a thriving business community containing everything from SMEs and sole traders to large corporations."
The move to the office at the Victorian-era building comes as 4th Utility's growth continues.  Since its foundation five years ago the number of employees has risen from zero to 55.
It has recently passed the 30,000 mark for homes connected across the UK over the past year, addressing both new apartment blocks and retrofitting existing buildings with full fibre solutions. It now has customers spanning from York to South London and Essex to Bristol as its footprint continues to grow, and hopes to connect even more properties next year.
::
Vanguard Holdings has signed up Internet of Things solutions provider, Invisible Systems, to Lowry Mill in Swinton.
The company has consolidated its offices in Milnthorpe in Cumbria and Huckletree at Express Buildings in central Manchester to take 4,646 sq ft on a 10-year lease.
Founded in 2003 by Pete Thompson, Invisible Systems appointed CEO Jamie Robertson and CFO Andy Wall earlier this year to take the company to the next level. The move to Lowry Mill is part of this process and will enable the company to attract and retain talent, as Jamie Robertson explained: "This relocation to Greater Manchester forms an integral part of our growth strategy.
"Lowry Mill provides us with a fantastic work environment together with on-site restaurant and gym, which will help us to attract new, local talent."
Mark Canning, at Canning O'Neill, joint agents for the scheme with Cushman & Wakefield, said: "The refurbishment of this former mill into a modern, high quality office scheme is simply outstanding. Office Insight designed the fit-out and have created a fantastic working environment."
Mike Lamplough, of Vanguard Holdings, the owner of Lowry Mill, said: "Invisible Systems' decision to come to Lowry Mill is a ringing endorsement, Lowry Mill has become a thriving business hub, as our fourth letting in as many months we are delighted to welcome Invisible Systems to our community."
Solicitors Hill Dickinson acted for Vanguard. Bexley Beaumont advised Invisible Systems.
::
A new independent coffee house is set to open its doors this Bank Holiday weekend at Merseyway Shopping Centre in Stockport.
Located next to The Body Shop on the High Street, Coffee Block will be serving hand-crafted coffee as well as a wide selection of cakes, paninis, and sandwiches.
The Coffee Block is owned by Stockport local, David Howarth. With 25 years' experience in the hospitality sector, David aims to provide incredible coffee and service "for the block we live on", catering to the Stockport community in a contemporary environment.
David said: "I am a local lad who has grown up in Stockport, and after achieving 25 years in the industry, I thought it was time to take the leap and own my own place – and where better than my hometown. I am so excited to open our doors to the Stockport community. This has always been a dream of mine and I aim to put Stockport on the coffee map. Independent retailers have a place on the high street and Coffee Block will be in the heart of Stockport's."
Victoria Nichol, centre manager, said: "Merseyway is committed to supporting local, independent businesses, so we're delighted to welcome Coffee Block to the centre. This new addition to our tenant mix will enhance our food and beverage offering."
::
Edwards & Co has completed the sale of Ellen House in Oldham to The Joseph Education Trust for £1.495m on behalf of Kingscrown Properties.
The landmark office building, which comprises 25,575 sq ft across ground, first and second floors, occupies a prominent 1.12 acre site on Waddington Street to the north west of the town centre.
Following a short marketing period, The Joseph Education Trust, an Islamic charity college, agreed to purchase the building, which also features 100 car parking spaces.
The property was previously occupied in its entirety by the NHS before the health service moved into group-held premises in 2020.
Richard Dinsdale, director at Edwards & Co, said: "Ellen House is an imposing property that provided a rare opportunity to purchase a modern, self-contained office close to the town centre."
Edwards & Co acted as joint agents on the transaction with Nolan Redshaw. The Joseph Education Trust was unrepresented.