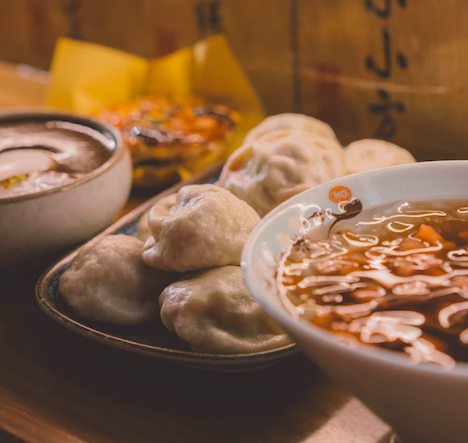 Review: Cafe Soya | Redbrick Food&Drink
When there's a long queue of people waiting outside a restaurant, you know it's bound to be good. Situated in Brum's Chinatown, Cafe Soya boasts a wide array of Chinese and Vietnamese dishes. The most exciting part is that it has an exclusively veggie menu. It also caters for meat eaters, so it's a good place to go if you have a range of requirements.
The restaurant is set out more like a cafe, with a bar at the back and wooden tables and benches to sit on. A cheery, bright yellow exterior welcomes you in. The staff are very attentive and quick to get you seated. You don't have to book a table and instead can just turn up (although at busy times you may have to join the queue of people outside). Despite this, it is completely worth any wait.
I usually opt for a Tsingtao beer as my choice of drink. It is very refreshing and pairs well with the Chinese dishes. When I last went, my mum had the floral Chinese tea, which she enjoyed. They have a large range of teas and milkshakes, which I would like to try more of another time. Their large jar of fruity mocktail also look delicious, so I will be back to sample this!
My favourite dish while eating out used to be duck pancakes when I still ate meat. When I turned pescatarian I was sad that I couldn't order anything similar to them if we went out for Chinese. I have had Linda McCartney's duck pancakes before (which are really good and definitely worth trying), but I'd missed the excitement of the fresh, steaming pancakes when eating out. I was therefore thrilled to see that Cafe Soya had 'Mock Crispy Aromatic Duck' on their menu. I have been there 3 times now and each time I have ordered this dish. The 'duck' is made of soya and has the same crispy texture and tastes delicious. Combined with the hoisin sauce, cucumber and spring onion slices, you can't tell the difference from real duck.
My other favourite dish is the veggie chicken noodles. You get a massive portion of noodles, so I would recommend sharing if you are also trying other dishes. The 'chicken' is made from soya and the noodles come with a mix of stir-fried vegetables, including peppers and bean sprouts, with a garnish of salad. They are delicious and filling.
To start, I have also had the fresh prawn steam pancake rolls. These had a great flavour, but the softer texture of the pancake rolls was not as much to my taste. When I went with my parents, my Dad had the Papaya Salad Stir-Fried Vermicelli, consisting of peppers, bean sprouts, cucumber, chicken, prawn, peanuts and sweet papaya. Though I cannot comment on the taste, the plate was an explosion of colour and looked delightful.
I would highly recommend Cafe Soya. Even if you're not veggie, it's worth giving their meat substitute dishes a try, as you might be surprised by how good they are! I can't wait to return to try more.
---
Hungry for more veggie recommendations in Brum? Check out these other reviews!