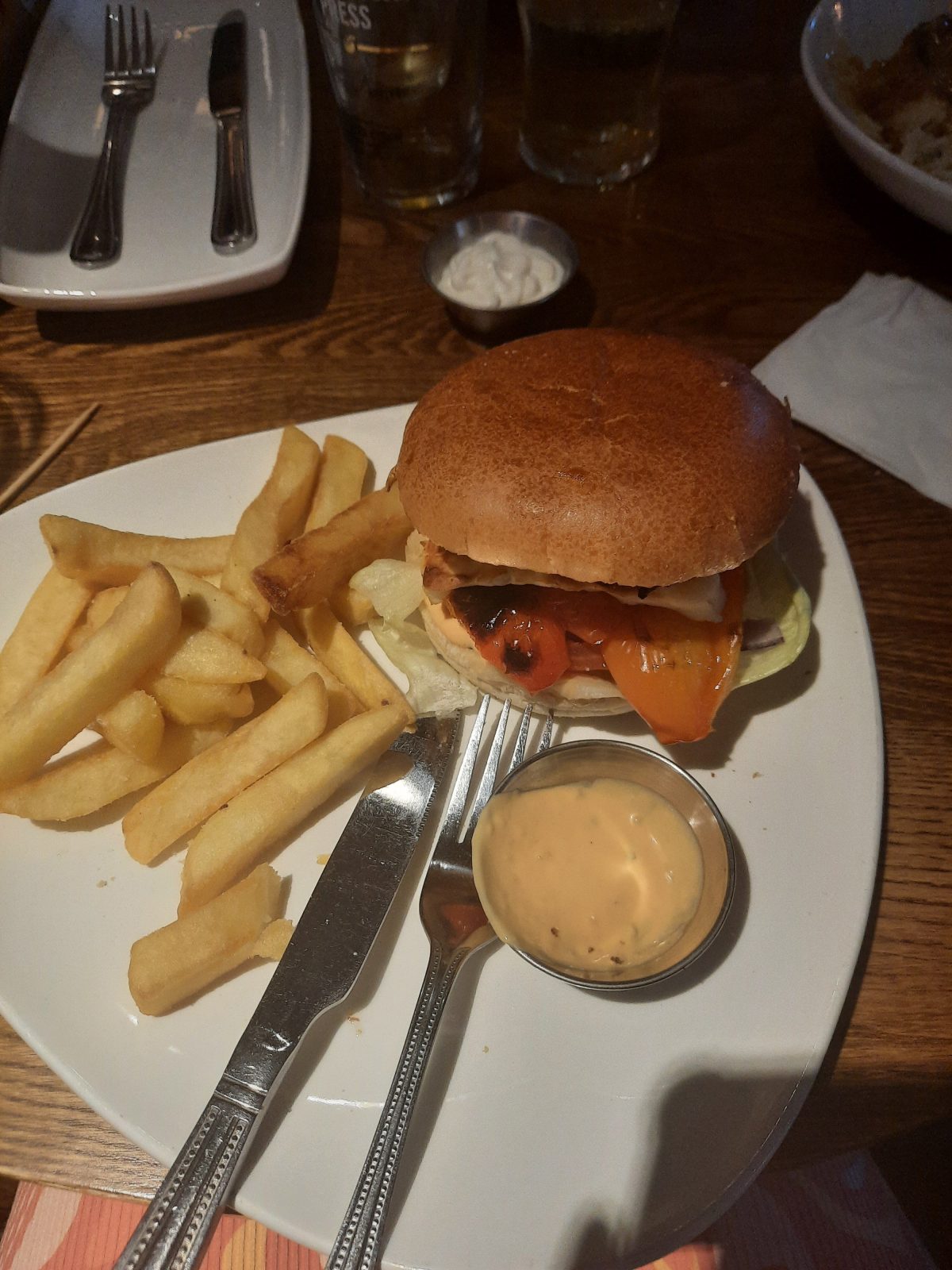 Review: Green Man, Harborne | Redbrick Food&Drink
If you're looking for a relaxed, friendly pub with an affordable tasty range of food, then look no further than Green Man in Harborne.
Green Man is similar to your traditional local pub selling typical pub-grub, but with high-quality dishes on offer, this pub gives the atmosphere of a restaurant when you're sat down eating.
Located at the top of Harborne High Street, this considerably large pub is part of the Ember Inns chain which brand themselves as 'a comfortable local with real ale and traditional pub-food.' Despite being a part of a chain of pubs, Green Man makes itself appear as an independent pub with its old-style decor and friendly staff; I'd imagine they get a lot of regulars too.
The pub offers an extensive range of vegetarian and vegan items on their separate Vegan Menu, which made this pub a winner for me. The range of options were impressive on the main menu too, as well as the drinks they had on offer, especially ciders and beers, as well as signature cocktails that were reasonably priced at £6.49 each.
What I was most impressed with was the fact that they had a Fixed Price Menu that offered two courses for £11.29 or three courses for £13.29. I often find at some restaurants that the Fixed Price Menus are too restrictive so they never seem worth it, but here, the number of options on this shortened menu was still substantial.
I chose to go for the two courses for £11.29; I had Home Fried Nachos for my starter which contained Home-fried tortilla chips topped with melted cheddar, nacho cheese sauce, salsa, guacamole and sour cream. I had never had fried nachos before but these were delicious, with the cheese stuck on top so that it melted in my mouth. The sauces combined perfectly together when dipped in to provide a burst of flavours on my taste buds.
For my main, I went for the Shroom Halloumi Burger; it was stacked high with a roasted flat mushroom, red peppers, grilled halloumi, lettuce, red onion, and tomato, sandwiched between a brioche bun. The halloumi was plentiful and the taste of the halloumi mixed with the mushroom and burger sauce was something I'd never expect to find so palatable. The seasoned chips that came with it were very filling because they were chunky chips; they came out warm, with a crispiness on the outside and softness on the inside.
While I cannot comment much about the drinks on offer at Green Man, as I only had a Pepsi Max, I can say that soft drinks are cheap here and my dad was very happy with his Stowford Press Cider.
The Green Man has so much more to offer than what I've mentioned, with mains such as Curry, Fish and Chips, Sausage and Mash, Gammon, Risotto, Lasagne and other Burgers, as well as classic puddings such as Apple Crumble and Chocolate Brownie; there will be something to satisfy your hunger here.
If you're yet to try out all the foodie places that Harborne has to offer, I would recommend making Green Man top of your list.
---
Hungry for more? Check out these recent Food&Drink Reviews:
Restaurant Review: Vietnamese Street Kitchen
Review: Be At One's New Cocktails