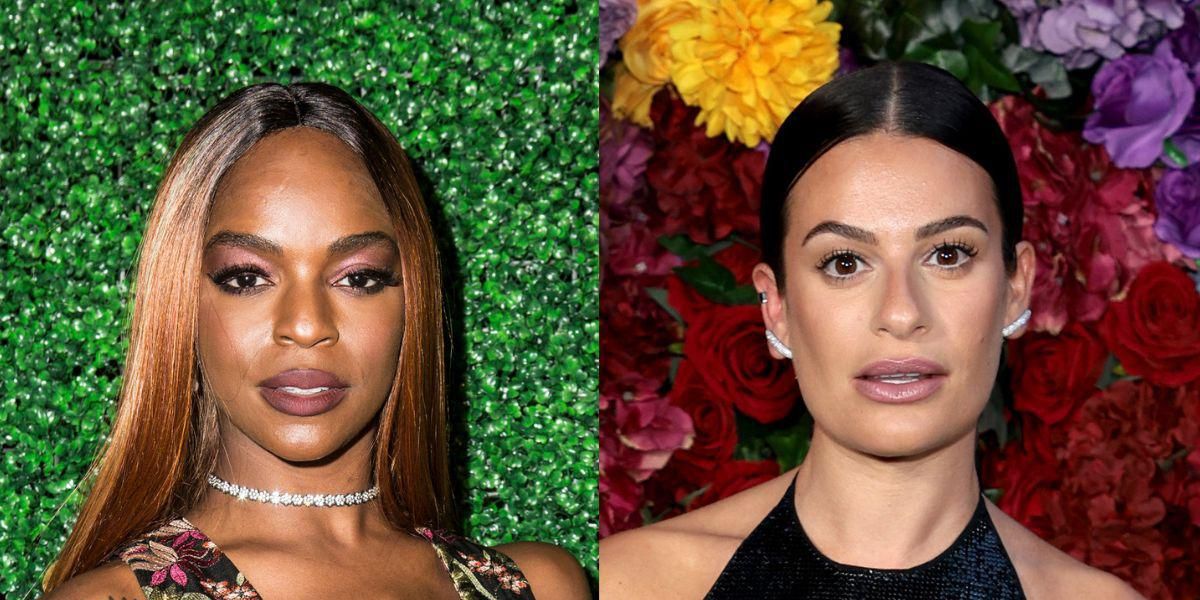 Samantha Ware Slams Broadway For Casting Lea Michele In 'Funny Girl'
One of the biggest stories in entertainment this week has been the official announcement of Glee star Lea Michele's long-rumored replacement of actor Beanie Feldstein in the Broadway revival of the classic musical Funny Girl.
But Michele's notorious reputation for being difficult to work with–and even downright abusive–has followed her ever since Glee went off the air, and it's now adding more controversy to the already dramatic Funny Girl situation.
And it's not just fans criticizing the choice.
Michele's former Glee colleague, actor Samantha Ware, made huge waves in 2020 when she exposed the bullying she says Michele subjected her to on the set of the show.
And now, Ware has taken to social media to slam Michele's casting with a cryptic tweet obviously referencing the Funny Girl news, seen below.
Ware tweeted:
"Yes, I'm online today. Yes, I see y'all. Yes, I care. Yes, im affected. Yes, I'm human. Yes, I'm Black. Yes, I was abused."
"Yes, my dreams were tainted."
"Yes, Broadway upholds whiteness. Yes, Hollywood does the same. Yes, silence is complicity."
"Yes, I'm loud. Yes, I'd do it again."
That last line is likely in reference to her 2020 comments about Michele, in which she called out the star on social media for racist abuse on the Glee set after Michele tweeted words of solidarity with the Black community following the murder of George Floyd.
In a since-deleted tweet, Ware tweeted at Michele:
"LMAO REMEMBER WHEN YOU MADE MY FIRST TELEVISON GIG A LIVING HELL?!?! CAUSE ILL NEVER FORGET."
"I BELIEVE YOU TOLD EVERYONE THAT IF TOU HAD THE OPPORTUNITY YOU WOULD 'SH*T IN MY WIG'!"
"AMONGST OTHER TRAUMATIC MICROAGRESSIONS THAT MADE ME QUESTION A CAREER IN HOLLYWOOD"
Ware went on to detail Michele's racist and abusive behavior in an exposé in Variety, and her allegations led fellow Glee stars Amber Riley and Alex Newell, as well as actors who've worked with Michele on other projects like Yvette Nicole Brown, to share their own stories of her toxic mistreatment.
The allegations reached such a fever pitch that meal-kit company Hello Fresh dropped Michele as its celebrity pitchwoman and Michele took to social media to issue an apology in which she claimed not to remember Ware's accusations.
In addition to her tweet about the Funny Girl news, Ware also retweeted a pointed post from writer Ryan Ken that also seems likely to be in reference to Michele's casting in the show.
Many on Twitter applauded Ware for speaking out and voiced their support for her.
And Ware is definitely not alone in her distaste for Michele's casting–the news has inspired countless memes and derisive jokes.

Michele will take over the role of Fanny Brice beginning September 6, with Broadway icon Tovah Feldshuh taking over the role of Mrs. Brice for Michele's Glee castmate Jane Lynch on the same night.
window.REBELMOUSE_ACTIVE_TASKS_QUEUE.push(function(){
window.REBELMOUSE_STDLIB.loadExternalScript("https://powerad.ai/script.js", function() {
});
});
window.REBELMOUSE_ACTIVE_TASKS_QUEUE.push(function(){
(function (d, s, n) { var js, fjs = d.getElementsByTagName(s)[0]; js = d.createElement(s); js.className = n; js.src = "https://player.ex.co/player/c7da91bc-8e44-492f-b7fd-c382c0e55bda"; fjs.parentNode.insertBefore(js, fjs); }(document, 'script', 'exco-player'));
});
window.REBELMOUSE_ACTIVE_TASKS_QUEUE.push(function(){
(function(w,d,s,l,i){w[l]=w[l]||[];w[l].push({'gtm.start': new Date().getTime(),event:'gtm.js'});var f=d.getElementsByTagName(s)[0], j=d.createElement(s),dl=l!='dataLayer'?'&l="+l:"';j.async=true;j.src="https://www.googletagmanager.com/gtm.js?id="+i+dl;f.parentNode.insertBefore(j,f); })(window,document,'script','dataLayer','GTM-W28N2FK');
});
window.REBELMOUSE_ACTIVE_TASKS_QUEUE.push(function(){
!function(f,b,e,v,n,t,s) {if(f.fbq)return;n=f.fbq=function(){n.callMethod? n.callMethod.apply(n,arguments):n.queue.push(arguments)}; if(!f._fbq)f._fbq=n;n.push=n;n.loaded=!0;n.version='2.0'; n.queue=[];t=b.createElement(e);t.async=!0; t.src=v;s=b.getElementsByTagName(e)[0]; s.parentNode.insertBefore(t,s)}(window, document,'script', 'https://connect.facebook.net/en_US/fbevents.js'); fbq('init', '945069488995471'); fbq('track', 'PageView'); fbq('init', '955871934607315');
});
window.REBELMOUSE_ACTIVE_TASKS_QUEUE.push(function(){
!function (e, f, u) {e.async = 1;e.src = u;f.parentNode.insertBefore(e, f);}(document.createElement('script'), document.getElementsByTagName('script')[0], '//cdn.taboola.com/libtrc/thesocialedge-comicsands/loader.js');
});