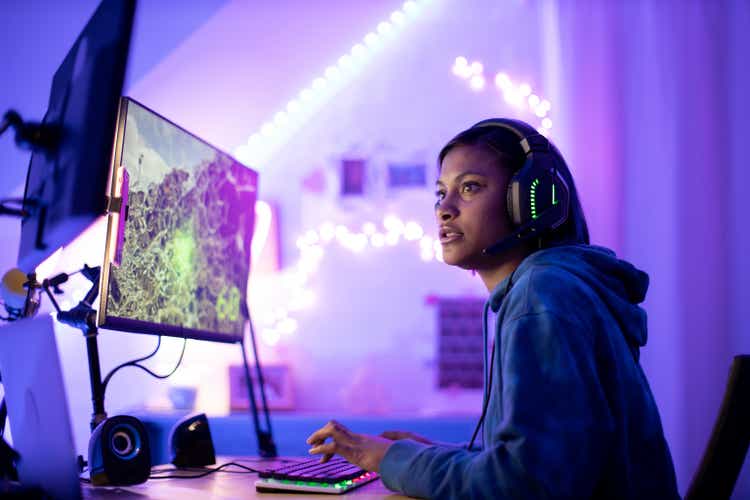 Videogame sales tumble 13% in Q2, with mobile again leading way down (NASDAQ:MSFT)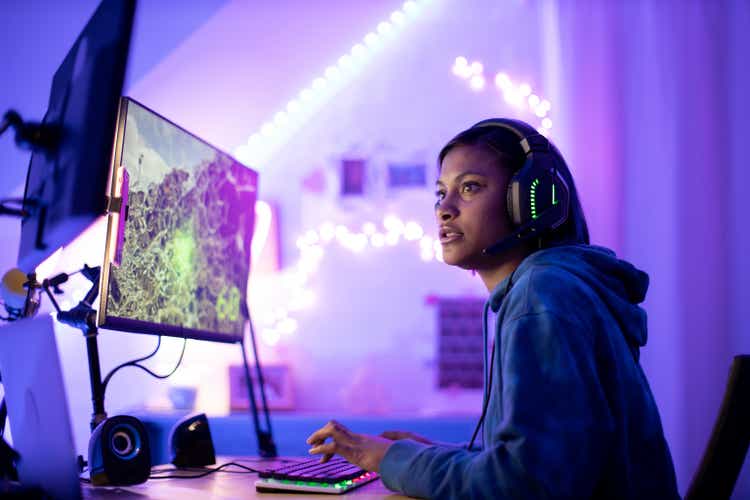 Consumer videogame spending slipped 13% in the second quarter from the same period a year ago – an acceleration of year-over-year declines as the industry struggles through tough comparisons to a pandemic 2021, and wrestles its way out of supply-chain woes amid an inflation shock to entertainment consumers.
Data in NPD Group's Q2 2022 Games Market Dynamics U.S. report indicate that overall spending on video games in the quarter was $12.35B, again with broad declines, and again with mobile contributing most to that fall. The only category that showed growth for the period was non-mobile subscription content spending.
Mobile spending fell 12% vs. the same period in 2021, according to Sensor Tower.
"While our projections foresaw a downward trend in mobile spending as life in the U.S. began its return to a new normal and consumers had fewer opportunities to engage with these titles, the current economic environment has certainly contributed to a more expediated decline," Sensor Tower's Randy Nelson said. Still, it's higher than it was pre-pandemic.
"Higher prices in everyday spending categories such as food and gas, the return of experiential spending such as travel and attending live events, a lighter release slate of new games, and continued new generation console hardware supply constraints were all likely contributors to the decline seen in the second quarter," said NPD analyst Mat Piscatella.
Hardware sales fell by 1% year-over-year, while accessory sales dropped 11%. Hardware unit sales for the quarter were led by Nintendo Switch (OTCPK:NTDOY), while dollar sales were topped in the quarter by the PlayStation 5 (NYSE:SONY).
As for content, its sales fell 13% to $10.97B.
Among the top sellers and most-played games across platforms: Among Us, Angry Birds 2, Bingo Blitz (PLTK), Call of Duty: Warzone (NASDAQ:ATVI), Candy Crush Saga (ATVI), Candy Crush Soda Saga (ATVI), Clash of Clans (OTCPK:TCEHY), Coin Master, Diablo Immortal (ATVI), Elden Ring (OTCPK:NCBDY), Evony: The King's Return, Fortnite (Epic/OTCPK:TCEHY), Grand Theft Auto V (TTWO), Homescapes, Kirby and the Forgotten Land (OTCPK:NTDOY), Lego Star Wars: The Skywalker Saga (WBD), Madden NFL 22 (EA), Mario Kart 8 (OTCPK:NTDOY), Minecraft, MLB The Show 22 (SONY), Pokémon GO (OTCPK:NTDOY), Roblox (RBLX), Royal Match, The Sims 4 (EA) and State of Survival.
Related tickers: OTCPK:NTDOY, SONY, NASDAQ:MSFT, HEAR, LOGI, CRSR, EA, ATVI, TTWO, WBD, OTCPK:UBSFY, OTCPK:NCBDY, OTCPK:SQNNY, OTCPK:CCOEY, OTCPK:SGAMY, SKLZ, SE, NTES, OTCPK:TCEHY, RBLX. Retail stock: GME.
Consumer game spending in the first quarter had fallen 8% year-over-year.