A Ukrainian journalist reached Russia's top diplomat with a sharp question accusing his government of looting grain and other goods from Ukraine.
Muslim Umerov, a journalist with Ukrainian public television, on Wednesday confronted Russian Foreign Minister Sergei Lavrov over reports that Russia had stolen agricultural products and other valuables from Ukraine during its invasion of the country. The undescribed moment came during a press conference in Turkey on negotiations to resume grain shipments from Ukraine, which humanitarian groups say are necessary to prevent food shortages.
Lavrov was in Ankara, Turkey, for talks on how to discuss plans to allow shipments of grain out of Ukraine. A major exporter of wheat and maize, UN officials have complained that Russia has blocked ports in occupied parts of Ukraine, preventing millions of tonnes of grain from reaching markets in Africa and the Middle East.
Towards the end of the press conference with Lavrov and Turkish colleague Mevlut Cavusoglu, Umerov was recognized for asking a question.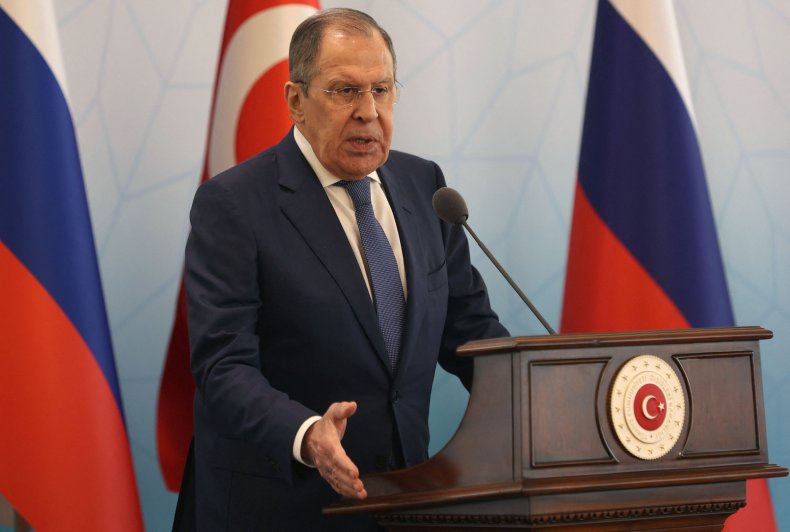 "So apart from the grain products, what has Russia stolen from Ukraine?" asked Umerov. "What did they sell in the markets?"
Lavrov rejected the question and instead reiterated the Kremlin's justification for the invasion of Ukraine that it seeks to "liberate" the country from a "neo-Nazi regime", a rationale rejected by Western powers.
"So in terms of grain, there is no obstacle or challenge from the Russian Federation," Lavrov added, referring to Russia's official name.
Russia has called on Ukraine to remove mines from the Black Sea in order to safely allow grain exports. Lavrov said during the press conference that it was up to Ukrainian President Volodymyr Zelensky to allow shipments of grain.
Earlier in the war, Russian troops have been accused of looting during their invasion of Ukraine.
Recently, US officials have warned African countries facing rising food prices against buying potentially stolen grain from Russian ships.
US Secretary of State Antony Blinken said earlier this month that there are from 20 million to 25 million tonnes of grain in silos that can not be moved to ships due to Russia's occupation. The blockade means another 40 million people are food insecure, he said.
Vasyl Bodnar, Ukraine's ambassador to Ankara, accused Turkey of buying stolen grain ahead of Lavrov's visit.
Turkey has signaled support for Russia's plan to resume grain exports. This has created a difficult situation for the United States, which has to balance relations with the NATO member and its goal of keeping economic pressure on Russia.
Newsweek has contacted the Ukrainian government for a comment.